PEUGEOT CITYSTAR 125 2011 - 2012
LEOVINCE GRANTURISMO
STAINLESS STEEL | SLIP-ON
This product has been discontinued and removed from the LeoVince official catalog. Please check with your
local distributor
for any remaining availability with them.
You can still find all the resources you need (technical drawing, spare parts list, user manual, warranty and pictures) at the bottom of this page.
MaxiScooter – MaxiPassform
Mit der GranTurismo hat LeoVince eine neue, sportliche voll konkurrenzfähige Anlage erschaffen. Mit dem Zusammenspiel aus Schalldämpfer und Krümmer bildet der GranTurismo das perfekte Gesamtpaket aus innovativem Design, Stabilität und Haltbarkeit.
INHALT DES KIT
The kit comes complete and does not require any extra parts for installation on the vehicle, all included components are listed in technical drawing and in the user manual.
HINWEIS
Vor der Bestellung des Produkts wird empfohlen, die Kompatibilität mit dem auf dem Fahrzeugschein angegebenen Typ zu überprüfen.
Alle gezeigten Bilder dienen nur Illustrationszwecken.
Das tatsächliche Produkt kann aufgrund der spezifischen Produktanwendung variieren.
SPARE PARTS & ACCESSORIES
#8613K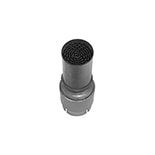 Technische Merkmale
| | |
| --- | --- |
| Sleeve Material | AISI 304 Stainless Steel |
| Sleeve Finishing | Titanium Look |
| Sleeve Painting | - |
| End Cap Material | AISI 304 Stainless Steel |
| End Cap Finishing | Titanium Look |
| Bracket Material | AISI 304 Stainless Steel |
| LeoVince Logo | Painted Metal Plate |
| Welding | TIG/MIG Weldings |