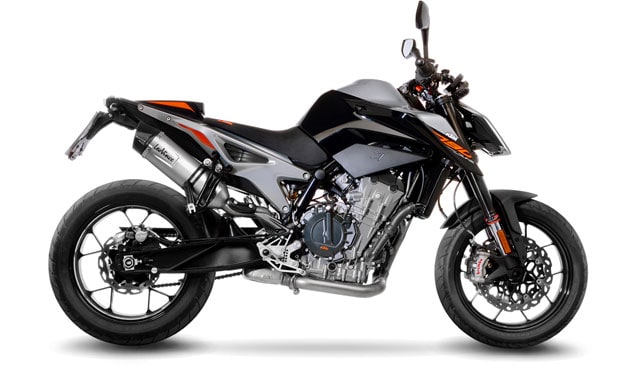 LeoVince has developed a new line of exhaust systems for the KTM 790 DUKE (2018).
The LV ONE EVO is the synthesis between tradition and modernity. It combines the LeoVince classic style looks and innovation in the research of the most performing and lightweight materials.
The LV ONE EVO is available in two different version: LV ONE EVO Stainless Steel and LV ONE EVO Carbon Fiber.
The body in AISI 304 stainless steel makes the LV ONE EVO Stainless Steel slim and impact-resistant, giving it a distinguished look. The design with square lines also gives an exclusive compactness.
LeoVince chose to sandblast the sleeve of the LV ONE EVO Stainless Steel, giving it a unique "Titanium Look" effect.
The carbon fiber muffler body of the LV ONE EVO Carbon ensures the highest performance optimization with its lightness.
LV ONE EVO is in full carbon, really lightweight and appropriate for those seeking darker tones.
The end cap, a real novelty of this new product, is made entirely of carbon and has an asymmetric and aggressive cut. This full-carbon solution gives the exhaust a touch of decisive style, providing greater resistance to high temperatures.
The 2 fastening clamps, are also made entirely of carbon, combining to create a perfect balance in the aesthetic of the muffler.
In the stainless steel version the LeoVince logo is made with laser marking and stands out against an absolutely new background: the Italian brand is stamped on the exhaust as a cut in the body dug silencer.
On the other hand, the carbon exhaust contrasts the dark tones with an aluminum LeoVince die-cut, high temperature resistant adhesive that is bright and easily visible on the carbon fiber.