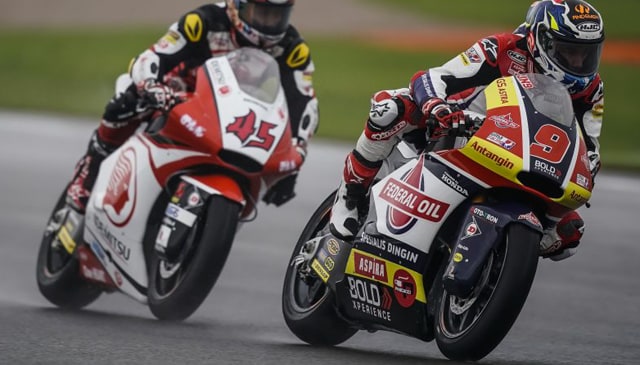 The first two years of Jorge Navarro's Moto2 career did not go as planned and hoped – not even at his home track, where Jorge Navarro did not manage to bid farewell the way he would have liked to. The Spaniard's final race with Gresini Racing came to an early end soon after the lights went out as he was thrown over the handlebars by his Kalex machine at turn four, fortunately with no injury.
It was a difficult weekend for the Team Federal Oil Gresini Moto2 rider, who never managed to be competitive or at least find the right feeling with the bike in tough and unpredictable conditions.
Jorge Navarro leaves Valencia with a 13th place in the final standings, while the team will turn their attention to the first test of the Triumph-powered era.
DNF – JORGE NAVARRO #9
"Unfortunately the feeling with the bike wasn't the one I wanted and I had some near-crashes already in the first few turns. I took it steady in the first few laps to make sure the tyres would get into the right temperature but then at turn 4 I crashed without warning. This is not how I wanted my home race to end, but also my season and this two-year Moto2 experience with the team. That's how it went, however, and I want to thank Team Gresini for what they did for me in these two years. I wish them all the best."
Source: Gresini Racing
Photo Credit: Gresini Racing