HONDA SH 150i/ABS 2013 - 2016
LEOVINCE GRANTURISMO
STAINLESS STEEL | FULL SYSTEM
This product has been discontinued and removed from the LeoVince official catalog and it is not available for purchase on our online store anymore. Please check with your
local distributor
for any remaining availability with them.
You can still find all the resources you need (technical drawing, spare parts list, user manual, warranty and pictures) at the bottom of this page.
MaxiScooter Tailor Made
Named for an Italian sporting tradition, LeoVince has realized with the GranTurismo a new sporty, competitive and absolutely original product. The combination of silencer and link pipe GranTurismo represents the perfect synthesis among innovative design, resistance and long-lasting durability.
KIT CONTENTS
The kit comes complete and does not require any extra parts for installation on the vehicle, all included components are listed in technical drawing and in the user manual.
NOTE
Before ordering the product, it is recommended to check that it is compatible with the type indicated on the Vehicle Identification Card.
All pictures shown and available sounds are for illustration purpose only.
Actual product may vary due to specific product application.
SPARE PARTS & ACCESSORIES
#8613K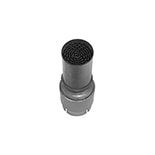 Technical features
| | |
| --- | --- |
| Sleeve Material | AISI 304 Stainless Steel |
| Sleeve Finishing | Titanium Look |
| Sleeve Painting | - |
| End Cap Material | AISI 304 Stainless Steel |
| End Cap Finishing | Titanium Look |
| Bracket Material | AISI 304 Stainless Steel |
| LeoVince Logo | Painted Metal Plate |
| Welding | TIG/MIG Weldings |