YAMAHA MT-09/FZ-09/ABS 2013 - 2016
LEOVINCE GP DUALS
STAINLESS STEEL | FULL SYSTEM
Part #: 15108
Homologation:

dB (A)
This product has been discontinued and removed from the LeoVince official catalog. Please check with your
local distributor
for any remaining availability with them.
You can still find all the resources you need (technical drawing, spare parts list, user manual, warranty and pictures) at the bottom of this page.
Twice the soul
The GP Duals is the new LeoVince slip-on inspired to the "GP" style, specifically developed for those who love customizing their bike with an exclusive product. Indeed, LeoVince has created with high quality materials an exhaust with unmistakable sound and aggressive design.
KIT CONTENTS
The kit comes complete and does not require any extra parts for installation on the vehicle, all included components are listed in technical drawing and in the user manual.
NOTE
Before ordering the product, it is recommended to check that it is compatible with the type indicated on the Vehicle Identification Card.
All pictures shown and available sounds are for illustration purpose only.
Actual product may vary due to specific product application.
WEIGHT
6.66 kg -1.78 kg vs the OEM
SPARE PARTS & ACCESSORIES
#16004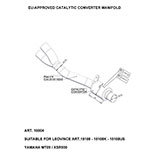 #8083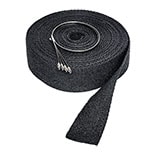 #8084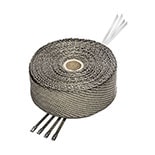 Technical features
| | |
| --- | --- |
| Sleeve Material | AISI 304 Stainless Steel |
| Sleeve Finishing | Matte Finishing |
| Sleeve Painting | Ceramic Black Paint |
| End Cap Material | AISI 304 Stainless Steel |
| End Cap Finishing | Shot blast finishing |
| Bracket Material | AISI 304 Stainless Steel |
| LeoVince Logo | Laser Etched LeoVince Logo |
| Welding | TIG Weldings |