BMW F 900 R/XR 2020 - 2021
LEOVINCE FACTORY S BLACK EDITION
STAINLESS STEEL | SLIP-ON
Part #: 14353SB
Homologation:

ECE-Approved

Also fits 35kW version

Fits with original center stand

With the BLACK EDITION, LeoVince is introducing a beautiful black with a matte finish, made using a ceramic painting extremely resistant to high temperatures.
Racing Attitude
Italian spirit and fighting soul. All combined with a dark look. The LeoVince Factory S Black Edition exhaust is the essence of LeoVince's research, which adapts the know-how developed in competition with each model to which the Factory S Black Edition is intended.
The Factory S Black Edition body sports a black ceramic-based paint, resistant to high temperatures. The exhaust features a carbon fiber end-cap, enriched with a matte clear coating for maximum UV resistance.
KIT CONTENTS
The kit comes complete and does not require any extra parts for installation on the vehicle, all included components are listed in technical drawing and in the user manual.
NOTE
Before ordering the product, it is recommended to check that it is compatible with the type indicated on the Vehicle Identification Card.
All pictures shown and available sounds are for illustration purpose only.
Actual product may vary due to specific product application.
WEIGHT
3.53 kg -3.29 kg vs the OEM
SPARE PARTS & ACCESSORIES
#8083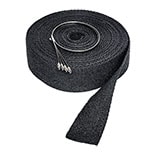 #MO1