LV-10
pour KAWASAKI Z 900 A2
2018 - 2023
Poids: 1,38 kg (-2,77 kg par rapport à l'échappement d'origine)
Entièrement fabriqué en Inox AISI 304
Coupelle de sortie sablée
Finition mate
Grille pare-flamme à la sortie des gaz
Logo LeoVince gravé laser
Patte de fixation découpée au laser
Autocollant racing "LV" résistant aux hautes températures inclus dans la boîte
REMARQUE
Avant de commander le produit, il est recommandé de vérifier qu'il correspond au type indiqué sur votre Certificat d'Immatriculation.
Toutes les images et les sons sont présentées à des fins d'illustration seulement.
Le produit réel peut varier en raison de l'application spécifique du produit.
CONTENU DU COFFRET
Le kit est fourni complet et ne nécessite pas de pièces supplémentaires pour l'installation sur le véhicule, tous les composants inclus sont énumérés dans le dessin technique et le guide de l'utilisateur.
Silencieux LeoVince
Tube de raccord/collecteur
Kit de fixation
Carte LeoVince
Autocollants LeoVince
Vidéos d'installation
Voir les instructions pour l'installation de votre nouvel échappement LeoVince.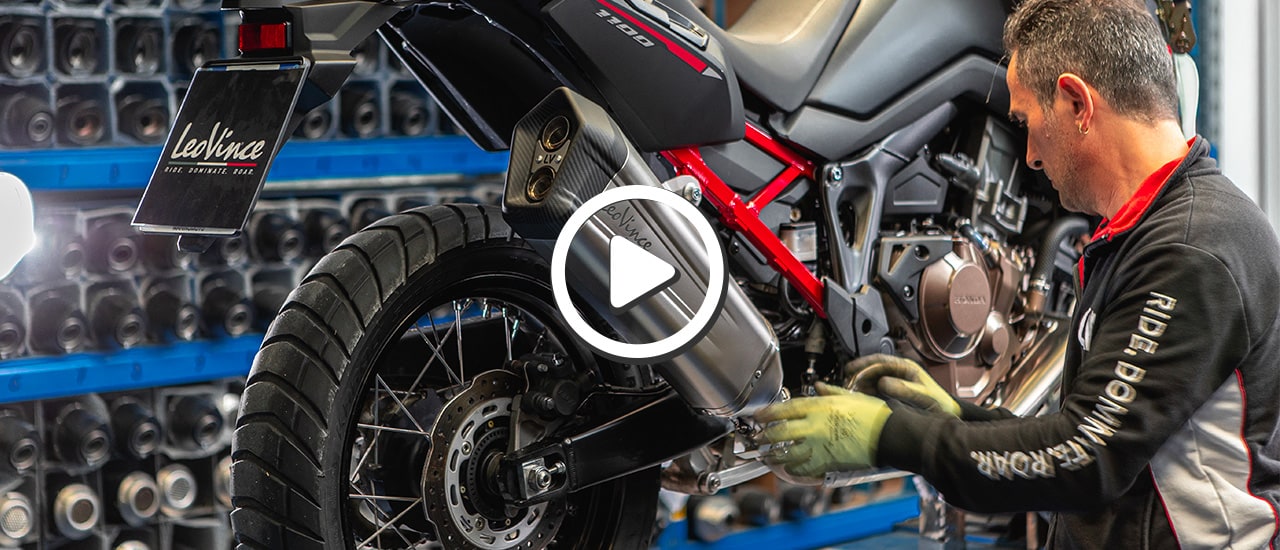 Avis
Rapport qualité-prix: 4.6 / 5.0
Facilité d'installation: 4.9 / 5.0
13 sept. 2022

MARCO
Acheteur vérifié
Very nice
Very nice build quality and nice sound ( not too loud )
14 sept. 2022

Dave Ramos
Acheteur vérifié
Great exhaust pipe. Two thumbs up!
I am very satisfied with my LV-10. It exceeds my expectations. It is classy and yet affordable.
13 sept. 2022

Daniel
Acheteur vérifié
Great product!
Best price, good looking, good sound, not that loud but perfect, and super easy to install!!
12 sept. 2022

Mike
Acheteur vérifié
Love it. Looks great. Sounds great.
Very pleased with this purchase. Installation was quick and easy. I bought the slip-on with the intention of adding the full exhaust after I'm out of the bike warranty period. There is a definite improvement in sound over the stock muffler, but not overly aggressive. I did notice a richer tone the more I rode. (At least that's what it appeared to be after a break-in period.) The sound really gets better at higher RPMs, but again, it is not overly aggressive, but that's what I'm looking for. With the addition of the full system, I think it will sound exactly the way I like. You'll know I'm there but I won't be exceedingly obnoxious. Overall, I love the look and the sound. If you're wanting an upgrade that is not overwhelming, I think this is a great option!
10 sept. 2022

Jocarlos
Acheteur vérifié
Perfecto
Me encanta el sonido el diseño y como queda instalado en mi Kawasaki
08 sept. 2022

Mark A.
Acheteur vérifié
The best italian exhaust for the price and quality
The quality is superb! I must say better than some high end brands. Best bang for the buck exhaust. By far the best affordable system in the market today. I don't know how LeoVince did it but the workmanship, aftersales and overall brand is too good for the price. I hope that LeoVince continues to remain a very good brand.
13 nov. 2022

Kawa38
Acheteur vérifié
C'est pas mal comme bruit avec lv10
Mais la grille est partie sur la piste:)