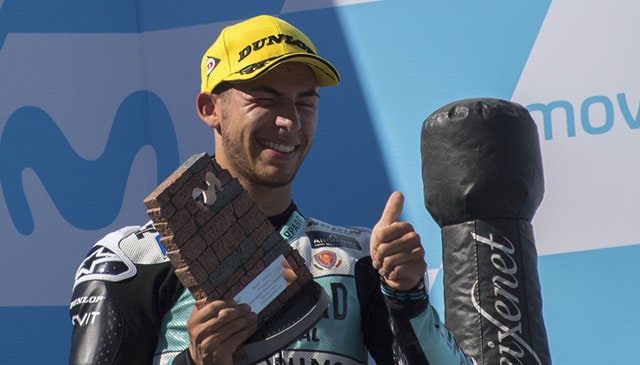 The talent from Rimini made an extraordinary comeback from the middle of the grid (which he had been relegated to this morning following a penalty) back to the third step of the podium, gaining one position in the standings. A more difficult race for team-mate Lorenzo Dalla Porta, struggling with grip problems but able to juggle rivals by closing in the points.
Sunday morning opened with ideal temperatures and a hot sun on 5077 m of the MotorLand Aragon, theater of the fourteenth race of the 2018 season. The Leopard Racing duo, Enea Bastianini & Lorenzo Dalla Porta, started the day on the right foot and finished Warm Up in 2nd & 3rd position respectively.
Unfortunately before the race, both Italian riders were given a 12- place grid penalty, which overturned the team's strategies. At 11 o'clock, the traffic lights of the Aragon Grand Prix switched off, with the Leopard Racing bikes making solid starts and immediately gaining positions. Martin ran away alone while the group remained compact. On Lap3 Bestia entered the Top Ten, with Lorenzo already in the points.
On Lap 4 Enea recorded the fastest lap and grabbed the leading group. Meanwhile, Dalla Porta overtook the two KTMs of Oettl and Binder, now he was knocking on the door of the Top10 too. Two laps later Bastianini completed his amazing comeback, placing himself in third position and continuing to mark red helmets in every sector of the Aragon track.
Enea continued to push with an incredible pace while fugitive Martin already had a significant advantage over the chasing group. With 8 laps to go, the tyres started to wear out due to the enormous effort in the first part of the race: Bastianini & Dalla Porta lose ground, proving themselves provisionally in 9th and 13th position. But in the last three laps Bestia has a pride surge, he overtakes in sequence all the and rivals and claims the 3rd position that will defend until the finish line.
Dalla Porta suffered grip problems but he gritted his teeth and kept himself in the points: a result that confirms his mental and professional growth. In the world rankings Lorenzo consolidates his 8th place, while thanks to the third step of the podium Bestia passes Canet and leads with 133 points in 4th overall. The MotoGP show returns in two weeks, on the weekend of 5-7 October at the Chang International Circuit, where the Thailand Grand Prix will be held.
#33 Enea BASTIANINI – 3rd
"I do not agree with the penalty received, I especially do not understand why we did not say it yesterday, as usually happens in these cases. Instead, communication came to the Team a few minutes before the Warm Up session, with no time to appeal by providing my version of events, nor being able to view the video evidence. I respect the decisions of the Race Direction, but on this occasion I do not agree: I did my lap-time without any slipstream. Too bad, because today we were competitive and we could have won the race. I had to push a lot at the beginning to be able to recover as many positions as possible: it was also exciting and I enjoyed it. In the second part I also had to handle the tires' wear. I earned one more position in the world rankings, we will draw conclusions at the end of the Championship."
#48 Lorenzo DALLA PORTA – 13th
"Certainly this final result is not exciting, but we were unlucky yesterday during the Qualifying session and today the track conditions were very complicated. I tried to do my best by bringing points to my score because I risked a lot: if I had pushed more I would have fallen. We will work for the next round, where we should have an advantage for the features of our bike and of the track."
Moto3™ Race – Aragon Grand Prix 2018
1 – J. Martin / ESP / Del Conca Gresini / Honda / 19 laps
2 – M. Bezzecchi / ITA / Redox Pruestel GP / KTM / +5.984
3 – E. Bastianini / ITA / Leopard Racing / Honda / +6.095
13 – L. Dalla Porta / ITA / Leopard Racing / Honda / +11.972
Moto3™ Riders World Standing 2018
1 – Jorge Martin / 191
2 – Marco Bezzecchi / 178
3 – Fabio Di Giannantonio / 150
4 – Enea BASTIANINI / 133
8 – Lorenzo DALLA PORTA / 91
Moto3™ Teams World Standing 2018
1 – Del Conca Gresini / 341
2 – Redox Pruestel GP / 272
3 – LEOPARD RACING / 224
4 – Estrella Galicia / 149
5 – Angel Nieto Team / 140
Source: Leopard Racing
Photo Credit: Leopard Racing