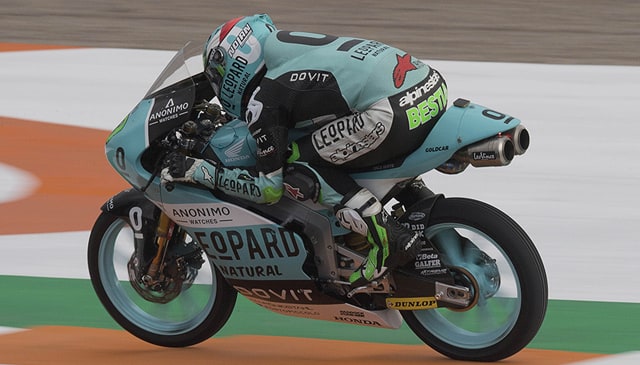 The talent of Rimini proved himself in an elimination race on a track in very difficult conditions. Many crashes at the Corner 4: among these blamelessly involved was Lorenzo Dalla Porta, author of an amazing season.
Sunday morning opened once again with the deluge falling on the 4 km of the Ricardo Tormo Circuit in Cheste, venue of the nineteenth and final round of the 2018 season. The Leopard Racing Team duo, Enea Bastianini & Lorenzo Dalla Porta, started the day on the right foot and closed the Warm Up session in 2nd and 3rd respectively, both showing a good pace.
At 11 o'clock local time, the traffic lights of the Valencia Grand Prix switched off and the battle began: unfortunately at the start, at Corner 4, Dalla Porta was blamelessly involved in an accident and rejoined the race from the bottom; in the meantime, Bestia held out and on Lap 3 he entered the Top10, in the middle of the KTMs of the Spaniards Ramirez & Masia.
The Corner 4 continued to claim victims, many riders broke their dreams of glory in those meters so slippery by the incessant rain. Enea resisted the attacks of rivals and, fighting like a lion, reached the Top5 door. Dalla Porta didn't give up and tried in every way to get closer to the points zone. Lorenzo mustn't to ask for anything to himself: the fifth place in the world standing was in the safe and coz this year he deserved it by podiums and placement culminating in his victory in Misano.
Enea kept a good pace and proved himself up to the finish line, taking leave of the Leopard Racing Team to embrace his new adventure in the Moto2 class with 4th place in the world ranking and with another great performance in comeback, moreover on a very difficult ground. In two weeks we return to Valencia for the test: 2019 has already started ...
#33 Enea BASTIANINI – 5th
"It was a very difficult race, marked by many crashes in the very first moments. I had to be careful because every time I wanted to overtake, there was a crash in front of me! So the leading group ran away immediately and I had trouble to get them back. However, I managed to keep a good pace throughout the race, claiming many positions and crossing the finish line in 5th place: a nice end for this season and my Moto3 experience."
#48 Lorenzo DALLA PORTA – 18th
"Such a shame because I knew I could make a good race today. I started determined to catch up but at the Corner 4 I could not avoid contact. I tried to start again to finish the last race of this season. Many thanks to the whole team, they always gave their best: it was an amazing year for me! Since the next test we'll already think on 2019!"
Moto3™ Race – Valencia Grand Prix 2018:
1 – C. Oncu / TUR / Redox Pruestel GP / KTM / 23 laps
2 – J. Martin / SPA / Del Conca Gresini / Honda / +4.071
3 – J. McPhee / GBR / CIP Green Power / KTM / +6.130
5 – E. Bastianini / ITA / Leopard Racing / Honda / +14.735
18 – L. Dalla Porta / ITA / Leopard Racing / Honda / 1'35.093
Moto3™ Riders World Standing 2018:
1 – Jorge Martin / 260
2 – Fabio Di Giannantonio / 218
3 – Marco Bezzecchi / 214
4 – Enea BASTIANINI / 177
5 – Lorenzo DALLA PORTA / 151
Moto3™ Teams World Standing 2018:
1 – Del Conca Gresini / 478
2 – Redox Pruestel GP / 330
3 – LEOPARD RACING / 328
4 – Angel Nieto Team / 191
5 – Bester Capital Dubai / 178
Source: Leopard Racing
Photo Credit: Leopard Racing