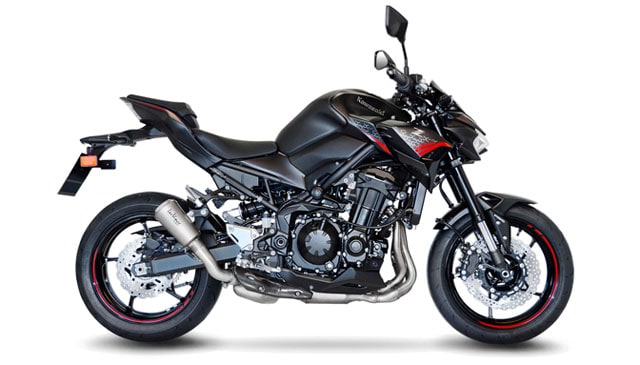 LeoVince has developed a new line of exhaust systems for the Kawasaki Z 900 (2020): the LV-10, available in three different versions: LV-10 Stainless Steel, LV-10 Black Edition & LV-10 Titanium.
The LV-10 is the slip-on we developed in collaboration with the best Moto2 and Moto3 teams and that comes directly from our experience in MotoGP and SBK racing.
We designed an exhaust system with extremely compact dimensions to grant maximum lightness, the best performance and the unmistakable LeoVince racing sound.
Manufactured entirely from AISI 304 stainless steel, the LV-10 Stainless Steel and Black Edition body sports a matte finishing and a laser etched LeoVince logo.
The LV-10 Black Edition sports a matte black finishing.
In the Titanium version, the silencer and the manifold are made using Titanium Grade 1, a pure material with high characteristics of ductility, strength and corrosion resistance while it guarantees a 30% weight reduction compared to stainless steel.
TIG welding is done entirely by hand and underline the craftsmanship of the product while retaining its racing DNA.
Inside, high thermal resistance (900 °C) fiberglass wool is applied through the use of a single proprietary and volumized yarn, to allow the sound-absorbing material to expand freely, without the fibers losing integrity, greatly increasing the durability.
The LV Pro slip-on has also been developed for the Kawasaki Z 900 in both Stainless Steel and Carbon Fiber version.
The following are the product part numbers for the Kawasaki Z 900: