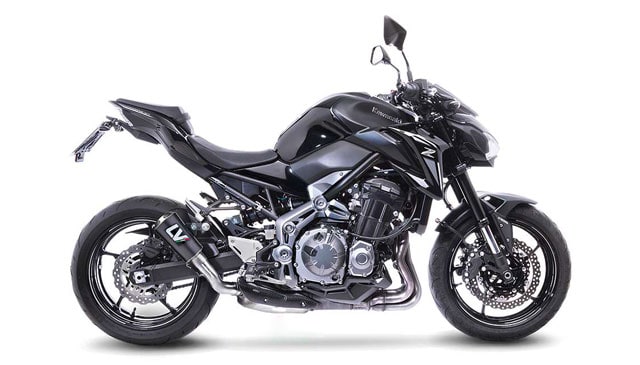 LeoVince has developed a new line of exhaust systems for the Kawasaki Z 900: the new LV-10 Carbon Fiber.
From the direct experience of racing in the Moto2 and Moto3 world championships LeoVince developed the new LV-10 Carbon Fiber exhaust, which completes the LV-10 range.
The new LV-10 Carbon Fiber maintains the compact and lightweight design that characterizes the LV-10 range.
The pre-preg, double-layer carbon sleeve and the full-carbon bracket enhance its lightness and aesthetic intensity, ensuring the best performance. The stainless steel endcap with sandblasted finish, combined with the rear stainless steel mesh, gives the silencer an extremely race-ready look, boosted by the unmistakable LeoVince sound.
LV-10 Carbon Fiber, unique in the LV-10 range, is enhanced with an aluminum plate, embossed with the LV logo, previously used by LeoVince exclusively in racing, testifying to the strong bond between the LV-10 Carbon Fiber and the racetrack.
Features:
Double layer of pre-preg carbon fiber
Matte finish
CNC "Full Carbon" bracket
Sandblasted endcap
Rear stainless steel mesh
Aluminum plate with embossed LV logo
TIG welding
The product part numbers are the following: