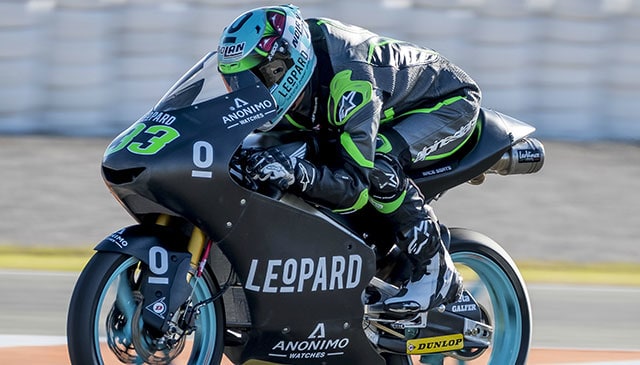 Action in 2018 begins at the Ricardo Tormo track, new riders Enea Bastianini and Lorenzo Dalla Porta engaging in the first test of the 2018 season with Leopard Racing.
The Leopard Racing team begins their 2018 campaign in Valencia, the same circuit where last November the 2017 season ended with winning the World Champion title. This year Leopard Racing will try to defend their crown to confirm itself as a the most successful team in the Moto3 class.
On the 4 km of the track named after Ricardo Tormo, the 2018 season began. It is one in which the Leopard Racing team will face a number of new challenges, including a brand new team, completely renewed and made up of two Italian talents, Enea Bastianini and Lorenzo Dalla Porta.
For the first time together in their careers, the two new teammates put their wheels on the track in the first official IRTA test, collecting data and precious information, immediately transmitted to the technicians led by the careful supervision of Christian Lundberg. The goal is to become familiar with the NSF250RW, defining a good basic setting for the start of the season.
Positive lap times came for both riders, who in the last two days (the first day the rain and low temperatures limited the activity on the track) completed 52 and 63 laps respectively. The Leopard Racing team tests will continue next week, on February 12th-14th, at the Jerez de la Frontera circuit, in Andalusia.
#33 Enea BASTIANINI (1'39.710):
"It's been a fairly positive test. The first day we did not run because of the cold. Yesterday we took to the track and I shook off a bit of rust that I was wearing and improved riding positions. Today we started to work right away and the second session in particular was very good thanks to the favorable climate and little wind. I concentrated on the steady pace and on mi-corner performance. Already a great feeling with the team!"
#48 Lorenzo DALLA PORTA (1'40.331):
"From how this test started, I can say very satisfied: the first day we could not run because of the bad weather and in addition I had a high fever. Yesterday I went out only for a first contact. I liked the new bike right away and it has a lot of potential. Now I just want to recover my strength: I'm 60%, I have more margin! In Jerez I will be able to express myself better; I'm really happy to be in this team, even more so with the atmosphere in the box".
Source: leopardnatural.com