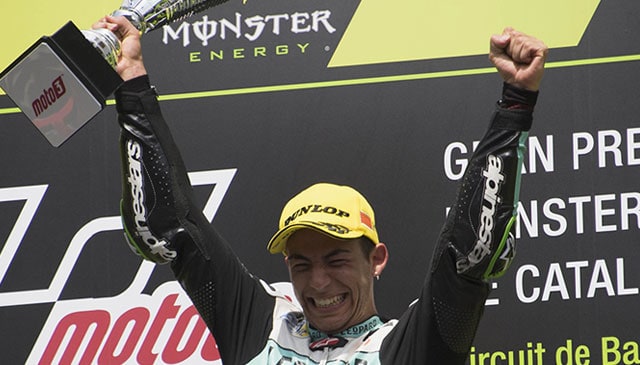 After yesterday's pole position, Bestia makes a masterpiece race on his favorite track. The Rimini talent gives to the Leopard Racing team the first victory of 2018 season. His team-mate Dalla Porta, blamelessly involved in an accident, closes out of the points.
The Sunday morning of the Catalan Grand Prix opens with sunshine and ideal temperatures on the 4627m of the Montmelo circuit. The Leopard Racing team confirms yesterday's good feeling in the Warm Up too, showing a good pace in the last finishing session.
At 11am, the traffic lights of the Barcelona-Catalunya circuit turn off for the seventh race of the 2018 season, with Enea Bastianini starting from the pole position, but during the first lap the race is getting complicated: at the Turn12 Lorenzo Dalla Porta & Darryn Binder come into contact. The Tuscan rejoins the race but now has a delay of 2 laps.
Meanwhile the leading duo Martin-Suzuki takes 2" ahead, but Bestia is the first rider of the second group, struggling with the rivals Masia & Canet. Enea closes quickly the gap inducing Martin to error: the Spaniard crashes at the Turn9, Suzuki seems in trouble and at the Lap10 Bestia moves to the lead.
The fight is tight and the group is compact: the KTM of Masia & Bulega take now the front. But Bastianini is in great shape and takes back the leadership, closely followed by Canet. The Moto3 class gives a show and it turns into an elimination race, where nobody wants to give up.
On the last lap there are 5 riders to compete for the final victory: Bestia takes the lead again, closes all the doors and defends the position; in the latest chicane he marks the difference and he gives his best crossing the finish line in 1st!
For Enea Bastianini it is the third success in his career, for the second time in his personal score he takes pole + victory. The Barcelona-Catalunya track has a special taste even for the Leopard Racing team, which today has triumphed on this circuit in 3 occasions on the last 4 seasons (2015, 2017, 2018).
In the World Championship standings Bestia is now fourth with 68 points, with a gap of only 35 from the leader; in the Teams ranking, the Leopard Racing takes a big leap forward in 3rd overall with 101 points. The MotoGP show returns in two weeks (June, 29 – July, 1) at the Assen TT.
#33 Enea BASTIANINI – 1st
"It was a beautiful race! At the beginning I didn't start very well, I saw that Martin was running away and I tried to recover some position. I knew he had the M tire and I didn't push, I tried to manage mine for the end of the race. It would have been nice to fight with him until the end, but I'm sure I would have won it anyway today: I gave my 100% all weekend with my team, we worked really well. Barcelona is a special circuit for me, but we can be competitive on every track: from now on we can have fun! I want to dedicate this victory to Andreas [Perez] and to my friend Bryan [Toccaceli], he gave me the strength to believe in my own potential: when the last lap started, I thought about him."
#48 Lorenzo DALLA PORTA – 17th
"A rival rider put me out on the first lap. I'm so disappointed because here the team did a great job and from Friday to today things had improved so much: we could have a great race and collect important points for the standings. At Turn12 Binder crashed on me. I tried to rejoin the race but the bike was destroyed and I just thought to finish the race, even in those conditions. Congratulations to the team and to Enea, he made a great race."
Moto3™ Race – Gran Premi de Catalunya 2018:
1 – E. Bastianini / ITA / Leopard Racing / Honda / 21 Laps
2 – M. Bezzecchi / ITA / Redox Pruestel GP / KTM / +0.167
3 – G. Rodrigo / ARG / RBA Skull Rider / KTM / +0.170
17 – L. Dalla Porta / ITA / Leopard Racing / Honda / +2 Laps
Moto3™ Riders World Standing 2018:
1 – Marco Bezzecchi / 103
2 – Di Giannantonio/ 84
3 – Jorge Martin / 80
4 – Enea BASTIANINI / 68
13 – Lorenzo DALLA PORTA / 33
Moto3™ Teams World Standing 2018:
1 – Del Conca Gresini / 164
2 – Redox Pruestel GP / 144
3 – LEOPARD RACING / 101
4 – Estrella Galicia / 92
5 – Angel Nieto Team / 84
Source: Leopard Natural
Photo Credit: Leopard Natural