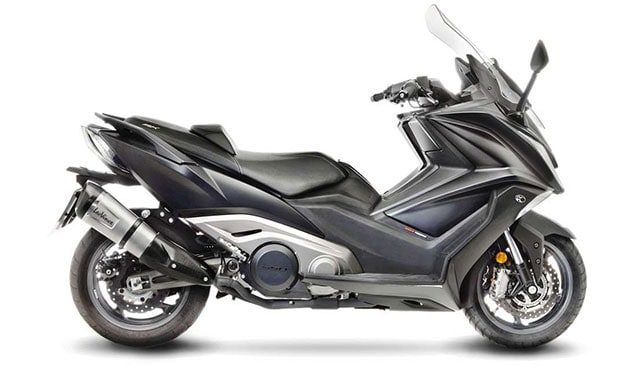 LeoVince has developed a new line of exhaust systems for the new Kymco AK550 (2017): the FACTORY S and the LV Pro.
Italian spirit and fighting soul. All combined with a titanium look.
The **LeoVince Factory S Stainless Steel **exhaust is the essence of LeoVince's research, which adapts the know-how developed in competition with each model to which the Factory S is intended.
The Factory S stainless steel body is totally made of AISI 304 stainless steel, with exterior sandblasting carried out with stainless steel grit to ensure a uniform and long-lasting surface.
Inside, high thermal resistance (900 °C) fiberglass wool is applied through the use of a single proprietary and volumised yarn, to allow the sound-absorbing material to expand freely, without the fibers losing integrity, greatly increasing the durability.
The end cap is entirely made of carbon fiber to enhance the lightweight performance of the Factory S.
The bracket is entirely designed in full carbon, with variable sections and 5 different carbon coats which are pre-impregnated of high resistance and anti UV resins.
The LeoVince logo, laser-etched on the silencer, in line with the latest technological innovations, signs the launch of a new product, perfect for optimizing the performance of your motorbikes and maxi-scooters in compliance with EU regulations.
For the Kymco AK550 (2017) a specific 100% carbon fiber heat shield is also provided.
LeoVince has also developed the LV Pro exhaust, for "racing use only".
Features FACTORY S
Conical shape sleeve
AISI 304 stainless steel sleeve
Full carbon end cap
High temperature resistant packing (1,650 °F)
Full carbon fastening strap
Laser etched LeoVince logo
Features LV Pro
AISI 304 stainless steel sleeve
Full carbon "Shark Cut" end cap
High temperature resistant packing (1,650 °F)
Full carbon fastening strap
Laser etched LeoVince logo