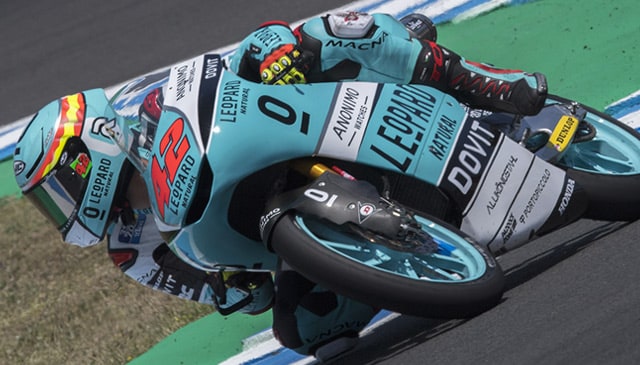 Strength, overtakings, very decent race pace and eagerness. That's how Leopard riders have been battling throughout the 22 laps race at the Grand Prix of Spain. A blue podium was almost in Leopard's hands, and when everything seemed to make it come true in Jerez (first stop of the European rounds) Spaniard Ramirez has crashed two laps to the end and Italian Dalla Porta has crossed the line the eighth.
The Spanish weekend didn't start in the best way but the whole team has been working hard and already on Saturday things started to change. Lorenzo Dalla Porta clinched his first pole position and Marcos Ramirez did the best qualifying session of the year so far, getting the 8th spot of the grid.
On Sunday morning expectations were high and riders were at the same level. After the start, both Marcos and Lorenzo were battling and overtaking riders on each lap, giving their best and commanding in front of the rest: Ramirez was extra motivated as was racing in front of his crowd, on home soil, and Dalla Porta was trying everything after having got his first pole position. And suddenly, when both were fighting for the victory, when both were swapping positions but always keeping their bikes among the three or four ones of the leading group… Marcos crashed two laps to the end as his front tyre touched the rider in front of him, Niccolo Antonelli, and Dalla Porta lost some positions after a contact with Aron Canet. This contact damaged the lever clutch of Lorenzo's bike and therefore the rider couldn't change gears when getting through the following turn. Dalla Porta had to run wide and many riders overtook him, losing this way his podium-or-victory chances.
It has really been a Sunday of broken dreams, as the team could have conquered the podium with Marcos and Lorenzo. After today's final result, Dalla Porta is the 5th of the standings and Ramirez the 11th. However, Leopard will stay positive and will be ready to fight again on the next race, scheduled the 19th of May in Le Mans (France). See you all there.
#42 Marcos Ramirez, N/C
"It has been a great shame. I felt comfortable on the bike, I had a really good pace and I was fast. I could have got the first victory of my life in front of my crowd and it hasn't been possible. I have no words to describe this sad feeling. I really felt good but in a fast point of the track where you have to go full gas, seems that the rider in front of me was slower. Therefore, I touched him with my front tyre and I crashed. I have to say thanks to the team and the sponsors but also to my closest people and my crowd, who have been amazing and have given me all their support. We will try again in Le Mans".
#48 Lorenzo Dalla Porta, 8th
"I have a bittersweet feeling. I can't say I'm pleased with the result because I felt strong throughout the race, I pushed a lot, overtook many riders and in the end, when I could've been on the podium or even got the victory, the clutch didn't properly work due to a contact with Canet and I lost many positions. The positive thing is that we have pace and I've felt strong. Now we will work hard to be ready for Le Mans."
Source: leopardracing.com