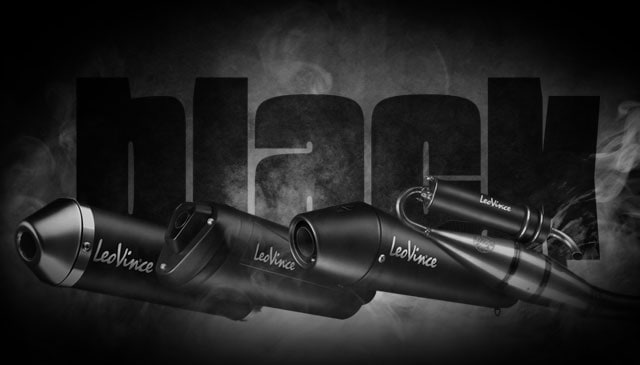 With the BLACK EDITION, LeoVince is introducing a beautiful black with a matte finish, made using a ceramic painting extremely resistant to high temperatures.
All the BLACK EDITION exhausts are entirely hand made with the best AISI 304 Stainless Steel. The attention to details in the construction of an unique product has always been in the LeoVInce DNA.
GP STYLE BLACK EDITION
The **GP STYLE BLACK EDITION **design provides the best combination of quality, performance and price for those who want to customize their motorbikes quickly and with few modifications while staying in full compliance with EU regulations.
The GP STYLE BLACK EDITION silencer is made of TIG-welded AISI 304 stainless steel, sandblasted with stainless steel particles and painted with a matte black ceramic finishing.
The development of the GP STYLE BLACK EDITION exhaust is specific for each individual engine model, with the aim to achieve a significant increase in torque and maximum power, while still complying with European standards.
GRANTURISMO BLACK EDITION
The combination of silencer and link pipe GRANTURISMO BLACK EDITION represents the perfect synthesis among innovative design, resistance and long-lasting durability.
The silencer body is completely covered by a stainless steel heat shield painted with a matte black ceramic finishing: this ingenious solution, besides giving an exceptional look to the product, protects the silencer from the daily rigors of use and reduces overheating, while providing the motorbike with a performance increase.
HAND MADE TT BLACK EDITION
Designed from the experience in the motorcycles' world, LeoVince HAND MADE TT BLACK EDITION is the top range of sporting exhaust systems which combines high performance and quality design at a competitive price level.
The HAND MADE TT BLACK EDITION exhaust, CE approved, features an expansion made of 10/10 stainless steel with an "open" double-chamber structure, combined with a round shaped silencer made of stainless steel and painted with a matte black ceramic finishing.
X-FIGHT BLACK EDITION
Hand Made, the X-FIGHT BLACK EDITION silencer is completely manufactured in stainless steel and TIG welded; the silencer features a matte black ceramic finishing for an even more refined look.
The HAND MADE X-FIGHT BLACK EDITION line covers a large range of bike models. It offers a good optimization of the performances, always respecting the European Regulations.