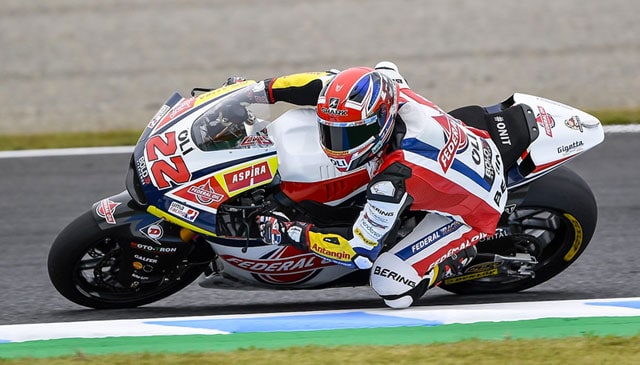 Sam Lowes's Grand Prix of Japan lasted less than two laps as while on full throttle, the Briton had a coming together with South Africa's Binder – who lost control of his KTM forcing the blameless Lowes to an inevitable and unfortunate retirement from the race.
This DNF wraps up a difficult weekend for the standard bearer of Team Federal Oil Gresini Moto2, who deserved better luck in the race – especially in light of a very competitive race pace which could have put him in the battle for a top-ten finish.
The high speed accident with Binder also left the English rider with a big bruise in his left hand, from which he should recover in time in order to be on track at Phillip Island in less than a week.
DNF – SAM LOWES #22
"Luckily there's nothing broken in the hand, even though it hurts a lot. I knew I could be competitive on the dry because we worked well on Friday and that showed as I was racing with Martin before the coming together, which no one was to blame for… Martin was on the podium today and we could have been there with him."
Source: gresiniracing.com