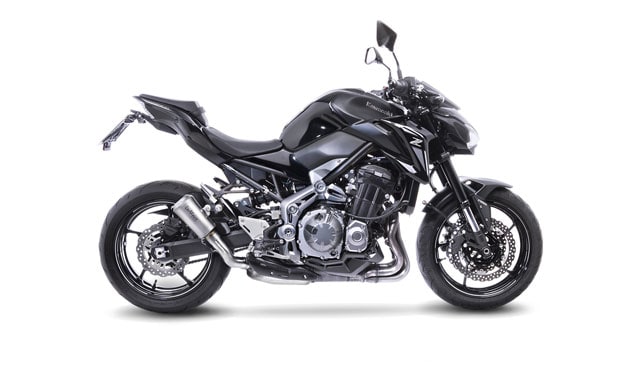 LeoVince has developed a new line of exhaust systems for the Kawasaki Z 900 and Kawasaki Z 1000 - Z 1000 SX: the new LV-10 TITANIUM.
Developed in collaboration with the LeoVince Racing Department and applying the experience gained in the Moto 2 and Moto 3 championships, the LV-10 TITANIUM expresses the maximum in racing technology applied to a muffler designed for standard bikes.
The muffler and the link pipe are made using Grade 1 Titanium, a pure material that, in addition to guaranteeing a weight reduction of -30% compared to stainless steel, has high characteristics of ductility, strength and corrosion resistance.
TIG welding is done entirely by hand and underline the craftsmanship of the product while retaining its racing DNA.
The LV-10 TITANIUM exhaust has a sandblasted finishing and a laser-etched LeoVince logo.
The part numbers for the Kawasaki Z 900 and Kawasaki Z 1000 - Z 1000 SX are the following:
Z 900: 15204T - "ECE-Approved" - slip-on in TITANIUM
Z 1000: 15209T - "ECE-Approved" - 2 slip-on in TITANIUM
Z 1000 SX: 15209T - "ECE-Approved" - 2 slip-on in TITANIUM
Main Features
Full Titanium Material Grade
30% Lighter than Stainless Steel
TIG Welding
Laser Etched Logo
Laser Cut Bracket