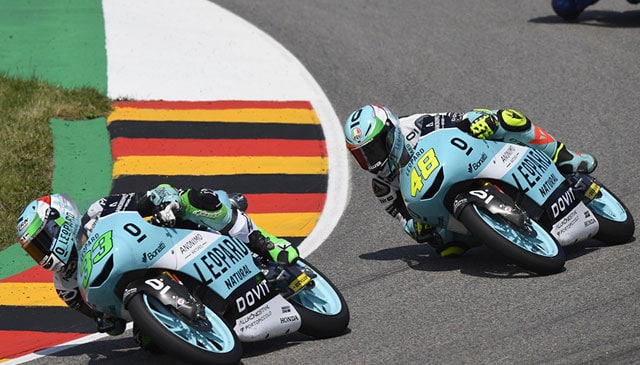 Despite the pain to his injured foot, Lorenzo Dalla Porta gritted his teeth and crossed the finish line in the points. A race to forget for Enea Bastianini, very fast in the Warm Up session this morning but deceived by the rear of his Honda.
A warm sunshine and the ideal temperatures (17°c air / 26°c ground) opened this Sunday morning at the Sachsenring Circuit, venue of the ninth round of the 2018 season. The Leopard Racing team duo, Enea Bastianini & Lorenzo Dalla Porta, began the day with the right step closing the Warm Up session in 1st and 6th position respectively.
At 11 o'clock the traffic lights of the Motorrad German Grand Prix switch off: at the start, Bestia & Lore keep their positions, with the Tuscan biker who immediately sets the fastest lap in the early stages of the race. The traffic on the track creates a long train of riders, with the Leopard Racing duo on the cusps of the Top10: Dalla Porta soon breaks the tie and begins in his personal comeback from 17th to 7th place overall. Bastianini instead appears in clear difficulty and loses out from his rivals.
On Lap13 the Race Direction imposes 3 penalty positions to Dalla Porta for a maneuver in overtaking. On Lap22 Bastianini, author of a good comeback in the Top10 so far, loses his bike's rear and must say goodbye to his dreams of glory. Meanwhile, Lore grits his teeth, enduring the pain that begins to be felt and returns with authority in the points.
The Tuscan rider reaches the Top10 in the world standings, with 46 points overall; Bastianini loses 1 position, with 46 points from the leadership. The MotoGP show returns in three weeks, on the weekend of August, 3-5: at the Automotodrom Brno, there will take place the Czech Grand Prix.
#33 Enea BASTIANINI – NC
"This morning in the Warm Up everything went well: I was fine on the bike and I had a good feeling with the hard tire, also scoring some good times. In the race I immediately started losing positions for a moved rear. Unfortunately this situation lasted during all the race, I was struggling so much in the fast corners on the left. I tried to push but I was thrown down. Too bad because we lost important points for the Championship, we will get to Brno with a strong determination!"
#48 Lorenzo DALLA PORTA – 13th
"The first part of the race was very good and I felt comfortable on the bike. But then I started to feel a pain to the injured foot: I was struggling to put it in the right place for the gear shift. I started to lose out, I gritted my teeth but in these conditions I could not really do more. The 13th place is better than nothing, we come back home with a few points more in the standings, aware of our potential because today, with the setting I had on the bike, I could aim for the podium. Now I will have some time to recover my best physical form."
Moto3™ Race – German Grand Prix 2018:
1 – J. Martin / SPA / Del Conca Gresini / Honda / 27 laps
2 – M. Bezzecchi / ITA / Redox Pruestel GP / KTM / +2.515
3 – J. McPhee / GBR / CIP Green Power / Honda / +2.571
13 – L. Dalla Porta / ITA / Leopard Racing / Honda / +10.027
NC – E. Bastianini / ITA / Leopard Racing / Honda /
Moto3™ Riders World Standing 2018:
1 – Jorge Martin / 130
2 – Marco Bezzecchi / 123
3 – Aron Canet / 92
4 – Fabio Di Giannantonio / 91
5 – Enea BASTIANINI / 84
10 – Lorenzo DALLA PORTA / 46
Moto3™ Teams World Standing 2018:
1 – Del Conca Gresini / 221
2 – Redox Pruestel GP / 184
3 – LEOPARD RACING / 130
4 – Estrella Galicia / 123
5 – Bester Capital Dubai / 101
Source: leopardnatural.com
Photo Credit: LEOPARD RACING