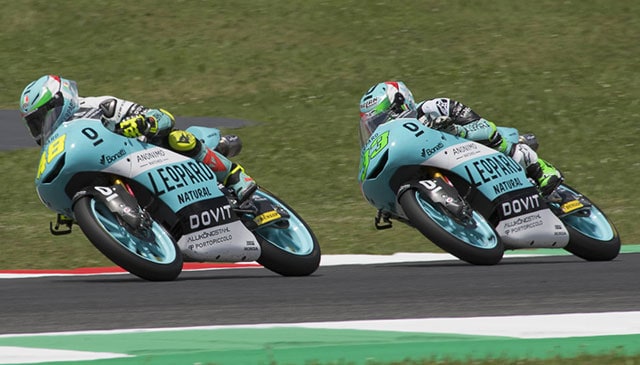 Excellent performance for the 3 Italian talents at Mugello: Bastianini, Dalla Porta and Pagliani are able to straighten out a difficult weekend and in the race they give their best, struggling hard between overtaking and comebacks and giving to the Leopard Racing Team an amazing Top10.
The Sunday morning of the Italian Grand Prix opens with a passionate environment for the thousands of fans on the grandstands and on the hills supporting their heroes. Many of them spent the night with no sleep: but Mugello is Mugello! In the Warm-Up session, the Leopard Racing Team took a big step forward during the finishing phase.
At 11am, the traffic lights of the Autodromo Internazionale del Mugello turn off, starting the sixth race of the 2018 season. A good start for Enea, who in the first lap comes from the 14th to the 8th place, in an hard fight with the leading group. Bestia is wild, at the second turn he puts behind him all the rivals placing himself provisionally in 4th: first of the pursuers to the leading trio.
After a not perfect start, Dalla Porta & Pagliani recover positions too: the two teammates are tied to the long train of riders of the third group, both start pushing hard, getting to the door of the points-zone. Meanwhile, the leading trio has already 4" margin on the second group, in which Bastianini plays a leading role: 7 riders fanning out at each braking! Now in the points, Dalla Porta raises the pace and enters the Top10 overtaking Arenas and Bulega; his team-mate Manuel Pagliani follows him as a shadow: not bad for a wildcard! At half of the race, Bastianini also changes rhytm and with a series of flying laps, gets back in 4th.
Migno, Arbolino & Rodrigo are very fast and reaching the Bestia; Dalla Porta breaks free from the traffic and Pagliani overtakes McPhee & Canet when the last lap begins. The three Leopard Racing riders are involved into the slipstream-game and close respectively in 6th, 8th and 10th. A great result as this weekend started: after the 'zero' in the last races, Bastianini & Dalla Porta get valuable points for the Championship, while the wildcard Pagliani takes his best result in his career.
The MotoGP show returns in two weeks (June, 15-17) at Montmelò on the Circuit de Barcelona-Catalunya…
#33 Enea BASTIANINI – 6th
"On the first lap I saw that the leading trio immediately ran away and get the margin. It's a pity, because by the half of the race I started pushing with a strong rhythm. In the last laps my tire began degrading, the others managed to close the gap, taking advantage for the slipstreams. It's not bad, but it's not where we want to be."
#48 Lorenzo DALLA PORTA – 8th
"As this weekend started, the race is not bad! I made mistakes in the first laps and I left behind: in the next races I will have to reflect on the starting. We have everything to be in front. I want to thank the whole team because my bike was very good today. After three 'zero' it's nice to gain important points here at home; we will go to Barcelona with the will to do our best."
#96 Manuel PAGLIANI – 10th
"I'm very happy with this race, it also helped me a lot for my growth. We found a good setup and I could brake very hard and open the gas soon. Unfortunately I had a bad start: a detail in which I have to improve. But from that moment I fought with the second group, recovering positions in a comeback from the 27th up to the Top10. I want to dedicate this success to my team and to my sponsors."
Moto3™ Race – Gran Premio d'Italia 2018:
1 – J. Martin / SPA / Del Conca Gresini / Honda / 20 laps
2 – M. Bezzecchi / ITA / Redox Pruestel GP / KTM / +0.019
3 – F. Di Giannantonio / ITA / Del Conca Gresini / Honda / +0.043
6 – E. Bastianini / ITA / Leopard Racing / Honda / +11.165
8 – L. Dalla Porta / ITA / Leopard Racing / Honda / +14.567
10 – M. Pagliani / ITA / Leopard Racing / Honda / +14.682
Moto3™ Riders World Standing 2018:
1 – Marco Bezzecchi / 83
2 – Jorge Martin / 80
3 – Di Giannantonio/ 75
7 – Enea BASTIANINI / 43
12 – Lorenzo DALLA PORTA / 33
24 – Manuel PAGLIANI / 6
Moto3™ Teams World Standing 2018:
1 – Del Conca Gresini / 155
2 – Redox Pruestel GP / 119
3 – Estrella Galicia / 84
4 – Angel Nieto Team / 84
5 – LEOPARD RACING / 76
Source: leopardnatural.com
Photo Credit: LEOPARD RACING