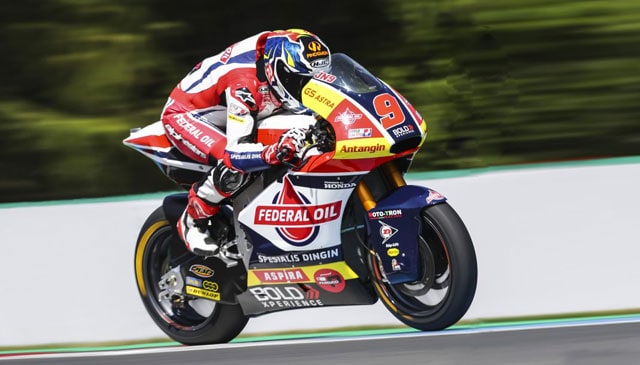 Jorge Navarro scores another important race result by crossing the line in eighth place at the end of the tenth race of the Moto2 World Championship at Brno – equalling his previous best result of the season in Texas.
The Team Federal Oil Gresini Moto2 rider had a good start to the race and stayed with the leading pack for the whole race – as he even had a shot a fifth place towards the end. While running on the final straight in sixth, Navarro was passed by both Binder and Schrotter, eventually crossing the line eighth.
The young Spaniard continues his rise as he is now 15thin the championship with 21 points, while team Federal Oil Gresini Moto2 makes it back in the top-ten of the team standings.
8th– JORGE NAVARRO #9
"With six laps left I used a lot of rubber while trying to pass Pasini and Schrotter, otherwise I would have ended up in the top-give. Having said that, I think this has been so far my best Moto2 race, as we were less than four seconds away from the winner at the line and we would have deserved to finish two places higher. Things keep improving so we must maintain this direction in Austria."
Source: Gresini Racing
Photo Credit: Gresini Racing