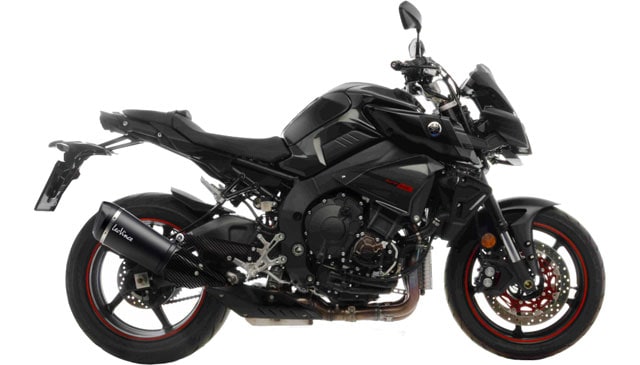 LeoVince has developed a new line of exhaust systems for the Yamaha MT-10: the FACTORY S. The exhaust is available with either a stainless steel or a carbon fiber sleeve, both featuring an aggressive sound and style.
In the stainless steel version the AISI 304 stainless steel muffler body with TIG welding is tapered with square lines and comes in different lengths, depending on the application.
In the carbon fiber version the muffler body is entirely made in twill HS -- 12K carbon fiber with a matte finishing.
The effect is that of a massive but elegant exhaust system, perfect for installation on a vehicle that wants to stand out in looks and style.
The muffler is equipped with an aerodynamic inlet with dual spring attachment, to improve anchorage to the pipework.
At the rear, the muffler has a carbon end cap with a dual asymmetric cut, outwards and downwards, which determines the right and left version, further customizing the bike.
The exhaust pipe is fixed to the frame via a carbon fiber clamp equipped with a rubber vibration damping element.
For the new Yamaha MT-10 a specific 100% carbon fiber heat shield is also provided.
The stainless steel version has an outstanding feature in the logo: the laser etched LeoVince logo emerges from a footprint carved in the muffler body. This background creates a touch of original style by tattooing the steel with the LeoVince signature.
In the carbon version, LeoVince stands out with a brilliant, high temperature die-cut aluminum sticker, which breaks the dark tones of carbon fiber.
For the new Yamaha MT-10 a kat eliminator mid-pipe is also available (LeoVince Part #8082), exclusively for racing use, which is compatible with both LeoVince and original exhausts.
Features
Conical shape sleeve
AISI 304 stainless steel sleeve
Full carbon end cap
High temperature resistant packing (1,650 °F)
Adjustable full carbon fastening strap
Laser etched LeoVince logo