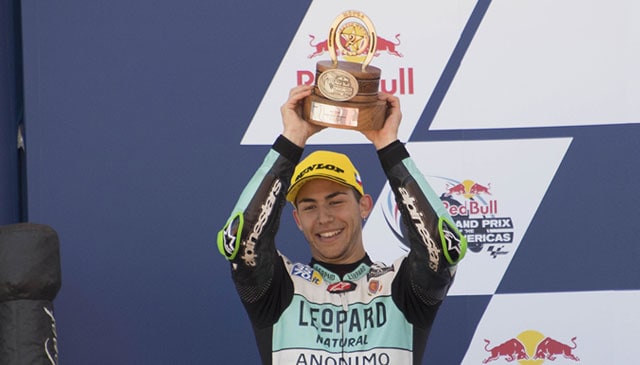 In the second part of the race, "the Beast" is the author of a series of amazing overtakes and comes a near-miss victory at the Circuit of the Americas: first seasonal podium for him and 5th place in the standings, now with 33 points as his number in the fairing. Difficult race for Dalla Porta that closes outside the points.
Finally the sun comes from behind the grey clouds, warming up the 5.5 km of the Circuit of The Americas (CoTA), venue of the third round of the 2018 season. The two Leopard Racing team riders, Enea Bastianini and Lorenzo Dalla Porta, confirm in the morning the pace and feeling with their Honda placing the Warm Up session paired in 8th and 9th position. The focus, however, is on the race, which will see them start from the 2nd and 6th row on the grid.
At 11:00 o'clock (local time, GMT -5) the CoTA's traffic lights officially go off to the third round of the 2018 season. Enea and Lorenzo keep their positions at the start, engaging the brawl in the large group of rivals. Great inspiration for the Tuscan Dalla Porta, who on the third lap already sees the Top Ten close, while his teammate Bastianini is 6th, in contact with the leading group. The first 13 opponents are compact in a long train of a few seconds.
When Dalla Porta was already rejoined with the front of the race, he unfortunately goes straight under-braking the Corner 12: on the race's halfway, he must start again with another comeback from the 18th position. At 8 laps to go, Bestia changes his pace, overtaking Foggia and Oettl, framing in his sights the leading trio. Lorenzo is blocked by traffic in the rear, while Enea is in full-5-struggle for only three steps of the podium at stake. The "Beast" passes his compatriot Bezzecchi with an amazing overtake and he is now in 3rd: in front of him there is the Gresini Racing duo Diggia-Martin.
The Spaniard tries to escape in the last 5 laps, but Bastianini turns into the "Beast" again and with another great overtake on Di Giannantonio, he is now to +0.8s by Martin. The two rivals outrun their pursuers, but Martin raises the pace and brings his lead over the Leopard Racing biker to over 1″. Bastianini understands that situation and administers the last lap to taking home the his first seasonal podium, which relaunchs him in 5th place in the world championship standings.
Another 20 important points for the Leopard Racing team, who consolidates in 3rd place in the Moto3 class Teams' standing. The today CoTA race closes the trio of events in the beginning of the 2018 season. The MotoGP paddock will back to Europe: the venue for the next round (4-6 May) is at the Jerez de la Frontera circuit for the Grand Prix de España 2018.
#33 Enea BASTIANINI – 2nd
"I'm happy with this podium, I could have also taken it at the first race in Qatar, if I hadn't made that little mistake. Here in America, finally in the dry, we managed to run a good race, especially against Oettl it was hard and in that phase I lost some time. But when I saw Martin get in front, I pushed hard to get stay with him, but he had already taken an important gap. In the last lap I managed the situation: I thought I could reach it, but I was on my limit and I didn't want to compromise a good result as this podium. In the past years this track was struggling for me, but today I felt right on the bike; now let's look forward, I am ready to fight for the victory!"
#48 Lorenzo DALLA PORTA – 18th
"Too bad for the race! I was almost the Top Ten, when unfortunately I came along at the Corner 12 with the neutral gear: I lost important time and all I could do was finishing the race. Such a shame for today, because the weekend started well, I was always on Top in the free practice, I felt confident for the race. Now we will go to Jerez with the idea of being able to make a good result on a track I like and that I know well."
Moto3™ Race – Grand Prix of The Americas 2018:
1 – Jorge Martin / SPA / Del Conca Gresini / Honda / 17 Laps 2 – Enea Bastianini / ITA / Leopard Racing / Honda / +1.451 3 – Marco Bezzecchi / ITA / Redox Pruestel GP / KTM / +4.112 18 – Lorenzo Dalla Porta / ITA / Leopard Racing / Honda / +23.757
Moto3™ Riders World Standing 2018:
1 – Jorge Martin / 55 2 – Aron Canet / 48 3 – Marco Bezzecchi / 43 4 – Fabio Di Giannantonio / 41 5 – Enea BASTIANINI / 33 6 – Lorenzo DALLA PORTA / 25
Moto3™ Teams World Standing 2018:
1 – Del Conca Gresini / 92 2 – Redox Pruestel GP / 61 3 – LEOPARD RACING / 58 4 – Estrella Galicia / 58
Source: leopardnatural.com
Photo credit: Leopard Racing