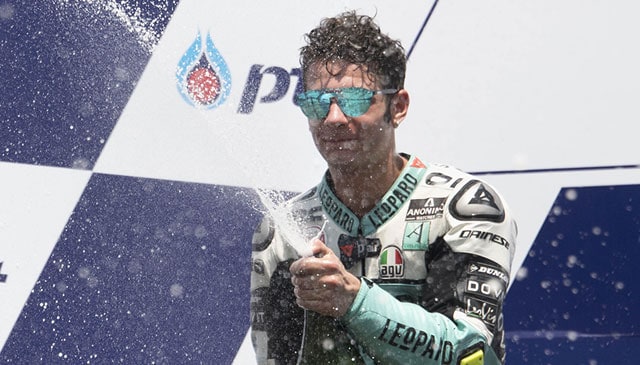 A third career podium for the Tuscan rider who crossed the finish line in 2nd overall and climbs to sixth place in the world standing with 111 points. A Bastianini's late mistake deprives the Leopard Racing Team of a double podium.
Sunday morning opened with warm temperatures and a scorching heat on 4,5 km of the Chang International Circuit, venue of the fifteenth round of the 2018 season. Lorenzo Dalla Porta began the day on the right foot and closed the Warm Up session in 1st position, while his team-mate Enea Bastianini was still a bit sore because of yesterday's crash in the final moments of Qualifying.
At 11 o'clock, the traffic lights of the Thailand Grand Prix switched off, with the Leopard Racing bikes busy defending their positions in the first lap. Then Lorenzo Dalla Porta started pushing hard and raised his pace coming to take the leading group and the lead of the race in just four laps. Meanwhile, Bastianini knocked on the doors of the Top10, hungry for more.
Halfway through the race there was an all-Italian battle on the horizon with Dalla Porta, Bezzecchi, Diggia, Arbolino and Foggia exchanging positions at each corner. Further back the large group closed in around Bastianini, who clenched his teeth and fought at the edge of the points. Eight laps from the end, the leading group further raised their pace, with Lorenzo always occupying the very first positions.
Bastianini passed the KTMs of Masia and Perez, grabbing the back of title leader Martin. The rider from Rimini transformed into The Beast in the last 3 laps, as he joined the leading group. Bezzecchi & Dalla Porta had something more than the others but in this duel they hindered each other giving the success to Diggia: Lore pushed hard until the close, cutting the finish line in 2nd overall position. A few moments after, in the last corner, Enea entered too hard on the brakes, overwhelming the innocent Bezzecchi.
Dalla Porta conquered the second step of the podium, his third of his career and this season with the Leopard racing Team, moving up to sixth place in the world standing with 111 points. The MotoGP show returns in two weeks, on the weekend of 19-21 October at the Twin Ring Motegi, where the 2018 Grand Prix of Japan will be held.
#48 Lorenzo DALLA PORTA – 2nd
"I'm satisfied with this second position, even if on the last lap Diggia escaped in the last corners and I could not try the final attack. Now I am sixth in the championship, I will try to get into the Top5 in the next four races still to be played. Even in each single session, we are now constantly among the fastest guys: it is the biggest step this season that I have done working on myself. I want to thanks to my family, my fans and especially the team because the bike was really fast."
#33 Enea BASTIANINI – NC
"It was a difficult race: at the beginning I felt a bit of pain in my leg, I could not get better and I was overtaken by many. The first part of the race was a bit uphill, then I found the feeling with the bike and, taking advantage of the situations on the track and overcoming several rivals, I managed to re-join the leading group. I strongly wanted the podium but at the last corner I could not avoid the fall: I'm very sorry to have hit Marco [Bezzecchi]."
Moto3™ Race – Thailand Grand Prix 2018:
1 – F. Di Giannatonio / ITA / Del Conca Gresini / Honda / 22 laps
2 – L. Dalla Porta / ITA / Leopard Racing / Honda / +0.135
3 – D. Foggia / ITA / Sky Racing VR46 / KTM / +0.466
4 – J. Martin / ESP / Del Conca Gresini / Honda / +0.980
NC – E. Bastianini / ITA / Leopard Racing / Honda / +1 lap
Moto3™ Riders World Standing 2018:
1 – Jorge Martin / 204
2 – Marco Bezzecchi / 178
3 – Fabio Di Giannantonio / 175
4 – Enea BASTIANINI / 133
6 – Lorenzo DALLA PORTA / 111
Moto3™ Teams World Standing 2018:
1 – Del Conca Gresini / 379
2 – Redox Pruestel GP / 280
3 – LEOPARD RACING / 244
4 – Estrella Galicia / 149
5 – Bester Capital Dubai / 147
Source: Leopard Racing
Photo Credit: Leopard Racing