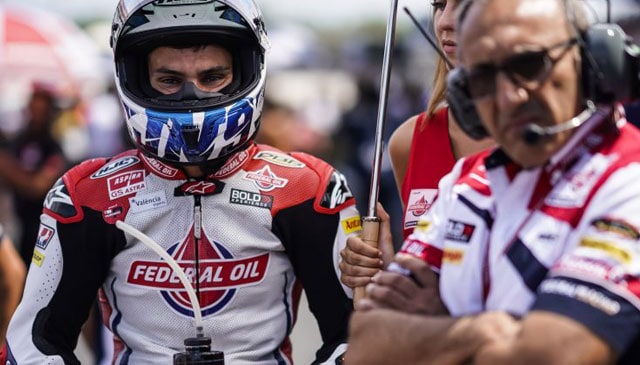 Things are not improving for Jorge Navarro, who was forced to yet another retirement from the race today at Montmeló after starting from 19th place on the grid. A pity for the Spaniard, who started to show some promising signs this morning in warm up – when he was even 0.6secs faster than in qualifying.
The rider of Team Federal Oil Gresini Moto2 had a good start and was riding within the top-15 as the Moto2 field entered turn one. With 15 laps to go, however, the same corner saw Navarro crashing out and soon afterwards retiring from the race.
Assen is two weekends away, and so is the next chance to bounce back and get that long-awaited turnaround for the better in what has been a subpar season so far.
DNF JORGE NAVARRO #9
"We couldn't find the solution to our issues despite all the hard work done throughout the weekend. This morning things were looking a lot better, but something changed during the race and the feeling with the front-end was the same I had yesterday – no feeling, basically. I made a mistake a turn one and couldn't save it. Today we hit rock bottom so all we can do is keep our head down and thing about Assen."
Source: Gresini Racing Photo Credit: Gresini Racing