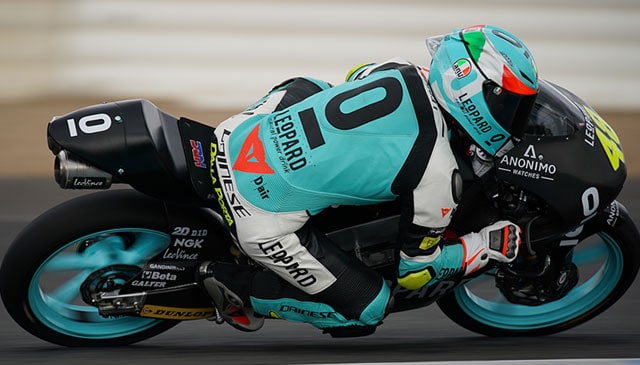 After their debut in Valencia last week, the preparations for 2018 season moved to Andalusia, at the Jerez Circuit. The 4423m of this fascinating track, known to all motorcycling fans, hosted three days of Moto3 Official Test.
Leopard Racing, reigning World Champion team, started off on the right foot since the first laps in Jerez with the new rider line-up formed by Enea Bastianini & Lorenzo Dalla Porta. On Monday, the two Italians left pit lane to begin working on riding position: once their feeling was improved, they started to refine the set-up and increase their pace.
With the constant supervision of Christian Lundberg, especially on the second day, the two young talents raised the bar in performance shaving off precious tenths every run, taking advantage of the weather conditions. The Tuscan Lorenzo Dalla Porta, still not 100% fit after a fever in recent days, focused on chewing up the miles and completed a grand total of 146 laps, getting closer to the leading positions on the timesheet in every session.
Nor a spectacular crash on the previous day while he was trying the time-attack, it couldn't scratched the Enea Bastianini's confidence with his Honda NSF250RW as he pushed harder and harder for a fast time. The 20 year-old from Rimini even dropped below the wall of 1'46", smashing the circuit lap record of pole position last season. The next IRTA tests will also take place here at the Jerez Circuit for the last official event before leaving for Qatar, venue of the opening round of the 2018 MotoGP World Championship.
#33 Enea BASTIANINI (1'45.630):
"I'm delighted how we did this test! We got stronger since our first run, then we focused on the fastest part of the track. I tried to adapt myself as much as possible to the bike and, consequently, it also increased my confidence that allowed me to make some decent lap times and improve a lot, especially on the pace. With the whole team we are focusing to understand what it takes to make one more step. I'm very confident, the important part (beyond the chrono) is working good now to get ready for Qatar."
#48 Lorenzo DALLA PORTA (1'46.273):
"They were a very positive three days. We worked hard on the brakes and engine braking: two points that we still need to sharpen in these tests. Every day we were improving, especially in the second and third day. It's important to be closer to the front, we aim to take a step forward. The relationship with the team is great, it's a pleasure to work with all of them."
Source: leopardnatural.com