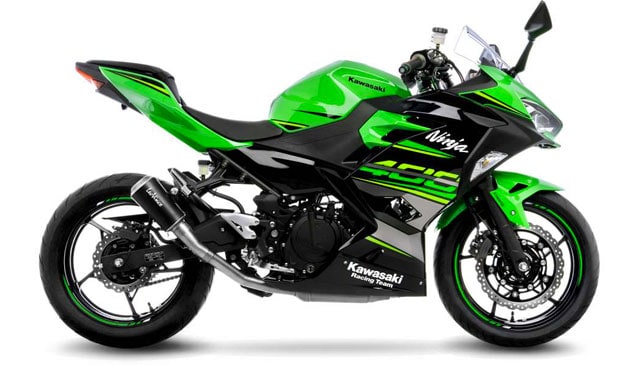 LeoVince has developed a new line of exhaust systems for the Kawasaki NINJA 400 (2018): the LV-10.
The LV-10 is the slip-on we developed in collaboration with the best Moto2 and Moto3 teams and that comes directly from our experience in MotoGP and SBK racing.
We designed an exhaust system with extremely compact dimensions to grant maximum lightness, the best performance and the unmistakable LeoVince racing sound.
Manufactured entirely from AISI 304 stainless steel, the LV-10 body sports a matte finishing and a laser etched LeoVince logo.
For those who love the dark tones, we also developed the "LV-10 BLACK EDITION" that sports a matte black finishing.
The rear stainless steel mesh embellishes the sandblasted end cap giving an extreme racing look.
As the LV-10 slip-on comes directly from the racing world, it is designed with an end cap with a stainless steel exhaust outlet mesh that gives your bike an extremely racing look.
Inside, high thermal resistance (900 °C) fiberglass wool is applied through the use of a single proprietary and volumized yarn, to allow the sound-absorbing material to expand freely, without the fibers losing integrity, greatly increasing the durability.
The following are the product part numbers for the Kawasaki NINJA 400:
15218: "Racing use only" LV-10 slip-on in stainless steel
15218B: "Racing use only" LV-10 BLACK EDITION slip-on in stainless steel
Features
AISI 304 stainless steel
Sandblasted end cap
"Titanium look" finishing or "matte black" finishing in the "Black Edition" version
Rear stainless steel mesh
Laser etched LeoVince logo
Laser cut bracket