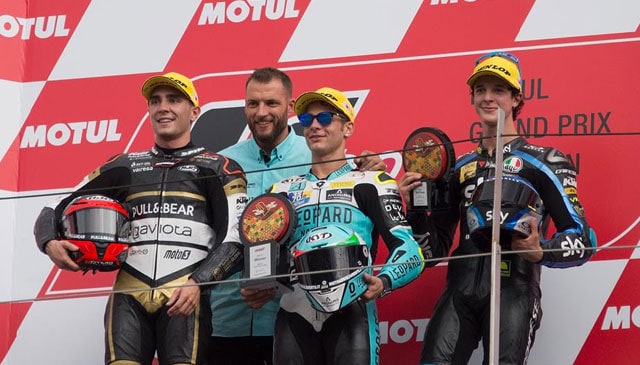 Leopard rider Lorenzo Dalla Porta crosses the line as the winner of the Grand Prix of Japan and teammate Marcos Ramirez classifies the 8th. After today's result, the blue squad turns into the World Champion Team of 2019.
It's been such an amazing day, the best day of the season so far! They say hard work pays off and that's what happened at the Twin Ring of Motegi, in Japan. The morning was quite a nightmare as Italian rider Lorenzo Dalla Porta hasn't been able to do a complete lap on the Warm Up. His bike suffered from a problem and unfortunately he couldn't do his job during this session, but from that moment until the start of the race, the team has been working so hard to fix it and it's fair to say they've nailed it, as Dalla Porta has taken his second victory of this year after all the morning struggles. He's been fast, determined, strong and has closed the door to any rival who has tried to overtake him. The first stages of the race were a little bit more difficult because he was trying to get more confidence on the bike, but starting from 6th position, when there were about 12 laps to the end, he's placed himself in front and hasn't lost the leadership. With gloves off, he's done an incredible job. Today, he and his bike have been unbeatable.
On the other side of the box, teammate Marcos Ramirez, who had started from the 12th position, has finally finished the 8th. Added to Dalla Porta's result, the points achieved by both riders have turned the Leopard Racing into the World Champion Team with still 3 races to go. A marvelous feeling after the 4 victories and the 8 podiums they've get altogether. The 373 points gathered up uptil now and the 145 points of advantage against the second, have turned the Leopard Racing into the best team of the 2019.
With these good vibes the team heads towards Phillip Island. See you all there in a week!
Lorenzo Dalla Porta #48, winner in Japan
"It's been an incredible feeling crossing the line as the winner. My grandma passed away when I was in Thailand and I wanted to dedicate her a victory. I couldn't do it there, so taking it here meant a lot for me. This morning the bike had a problem and starting the day this way hasn't been the best, but the team has worked a lot until the last moment and they've given me the best bike possible, it was fast and I felt really good. Now we get to a circuit that I really like in less than a week and we'll work the same way as always. Many thanks to the team, it's been an amazing day".
Marcos Ramirez #42, 8th in Japan
"This weekend I had very good feelings for the race and I wanted to take a better result. The start didn't go the way I expected, I've been pushing throughout the race and I've tried to do my best, but we've finally crossed the line the 8th. Now we will get to Australia and I can't wait to race there to try it again. Many thanks to the team for the job done"
Fonte: leopardracing.com