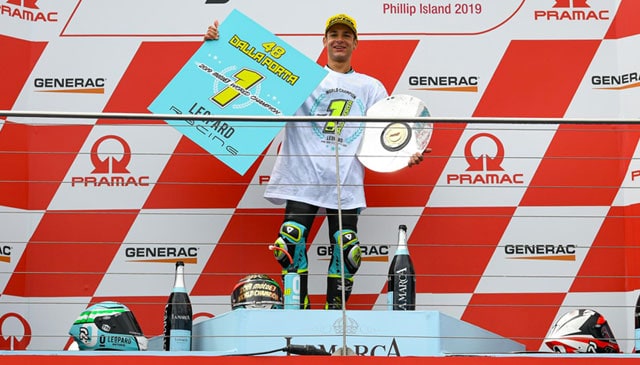 Leopard rider Lorenzo Dalla Porta becomes the 2019 Moto3 World Champion at the Phillip Island Circuit, the 22-years-old man has made history the 27th of October of 2019. Alongside him, teammate Marcos Ramirez crosses the line the 2nd.
The Leopard Racing spirit could be compared to a family and that's one of most valued things for Lorenzo Dalla Porta. Hard worker, humble, strong, determined, kind, clever and fast. That's how our Italian rider is. He's been so constant this season, up until now had 2 victories and 7 podiums. And today he's added another victory to those numbers and not only that: after many years following this dream, the man from Tuscany has turned into the Moto3 World Champion of 2019 with the Leopard Racing. He's done it alla grande, (amazing) as they say in Italian. He wanted his prize and was determined to take it just he way he had been dreaming it: winning the race, as he and his bike have been unbeatable. And if that wasn't enough for the Leopard team, teammate Ramirez ha crossed the line the 2nd.
This is the 3rd crown for the Leopard Racing (Kent 2015, Mir 2017) and with two races to go, Dalla Porta has gotten 3 victories and 7 podiums and Ramirez 2 victories and 2 podiums. We couldn't ask for more. 2019, you are being amazing.
Lorenzo Dalla Porta #48, Moto3 2019 WORLD CHAMPION
"I have no words to describe the way I feel right now. I think I won't realize it until tomorrow and the only thing I can say is that I've waited so long to get to this day. My family has made a lot of efforts throughout the years and I can only say thank you for always being next to me. Many thanks to the team for always giving me the best bike, since last year we really understand each other and they always work so hard to give us the best. I couldn't get it without them. So I couldn't ask for more. I'm over the moon. My dream has become true".
Marcos Ramirez #42, 2nd in Australia
"I'm happy after the podium. The beginning of the race was difficult but I managed to place myself in the front group at the last stages of the race and I finally crossed the line the 2nd. Things this way, I'm ready to fight for the 2nd position of the Championship. Congrats to my teammate after an amazing job. See you in Malasia".
Fonte: leopardracing.com