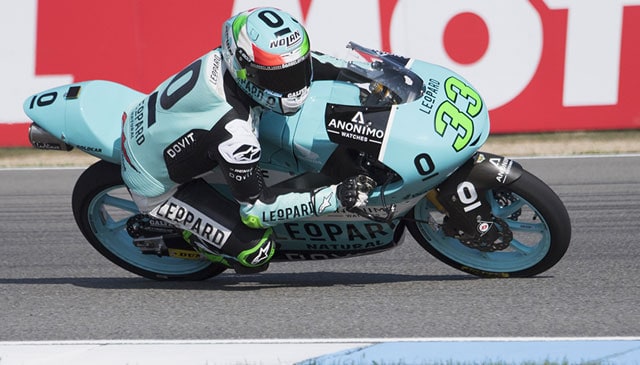 The two riders of the Leopard Racing Team are both protagonists of a gret comeback at Brno's Automotodrom. In a week the Austrian Grand Prix will take place.
Some clouds in the sky of the Czech Republic this Sunday morning does not lower the warm temperatures (30°c air / 39°c ground) at the Automotodrom Brno, venue of the tenth round of the 2018 season. The Leopard Racing team duo, Enea Bastianini & Lorenzo Dalla Porta, began the day with the right step closing the Warm Up session in 3rd and 6th position respectively.
At 11 o'clock the traffic lights of the Czech Grand Prix switch off: an uphill start for Leopard Racing duo that loses some positions in the very first meters, bottled in the thick traffic of the Moto3 class. Bestia & Lore fight with a knife in their teeth engaging several duels in each lap and reaching the limit of the Top 10 in the first part of the race.
The leading group runs very compact with 22 riders enclosed in 2" margin. At 2/3 of the race the pace is getting raised and the two blue Leopards muscle through their rivals entering the Top10. At 5 laps to go Dalla Porta breaks the tie and overtakes his team mate throwing in pursuit of compatriot Bezzecchi, who ends up in the grip of the two Leopard Hondas.
Now Bastianini overtakes Bezzecchi & Foggia, launching his attack on the Top5. Pulse-pounding last two laps: Lore has a pride surge and closes his great comeback by crossing the finish line in 10th; Enea pushes to the limit in the last meters touching a well-deserved podium. But it's already time to focus on the next weekend of August, 10-12: at the Red Bull Ring there will take place the Austrian Grand Prix.
#33 Enea BASTIANINI - 4th
"It was a really difficult race, unfortunately I did not start well in acceleration. I was back in the early stages and today wasn't easy to overtake the whole long group: a moment you were in front, but immediately the other guys passed through you. In the end I tried to push to the limit: the fourth place finish is not too bad as a result but here I was aiming for more points. Now let's grit the teeth and already focus on Austria!"
#48 Lorenzo DALLA PORTA - 10th
"Today we started behind because of the yesterday Qualifying result and I didn't make a good start. But I immediately tried to get my pace and I rejoined the group. I felt comfortable on the bike but at 3 laps to go I suffered any dangerous overtakes: despite I lost few time from the group, I tried to close the gap again but now we were on the last lap and there was no more time. It was still a great comeback, we knew we could stay in front after the Warm Up, we still missed a few small details to improve for next week in Austria."
Moto3™ Race – Czech Grand Prix 2018:
1 – F. Di Giannantonio / ITA / Del Conca Gresini / Honda / 18 giri
2 – A. Canet / SPA / Estrella Galicia / Honda / +0.112
3 – J. Kornfeil / CZE / Redox Pruestel GP / KTM / +0.339
4 – E. Bastianini / ITA / Leopard Racing / Honda / +0.560
10 – L. Dalla Porta / ITA / Leopard Racing / Honda / +2.056
Moto3™ Riders World Standing 2018:
1 – Marco Bezzecchi / 133
2 – Jorge Martin / 130
3 – Fabio Di Giannantonio / 116
4 – Aron Canet / 112
5 – Enea BASTIANINI / 97
11 – Lorenzo DALLA PORTA / 52
Moto3™ Teams World Standing 2018:
1 – Del Conca Gresini / 246
2 – Redox Pruestel GP / 210
3 – LEOPARD RACING / 149
4 – Estrella Galicia / 143
5 – Bester Capital Dubai / 110
Source: leopardracing.com
Photo Credit: LEOPARD RACING