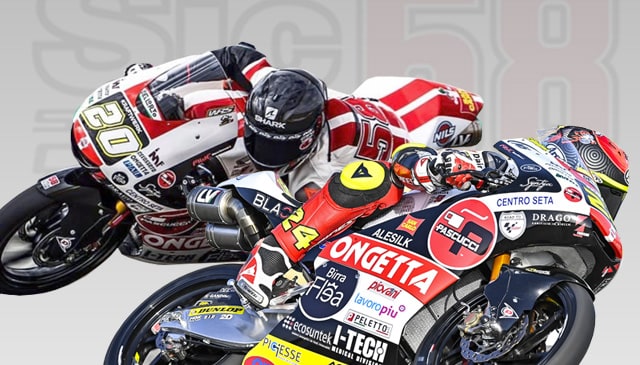 It is with great pleasure that LeoVince announces for the third consecutive year the renewed sponsorship of Team SIC58 Squadra Corse for the 2021 season.
LeoVince will once again be the official sponsor both for the team that will compete in the FIM Road Racing World Championship Grand Prix in the Moto3 class, and for the team that will participate in the FIM Junior World Championship, in the Moto3 class.
The 2020 season was tough due to the global pandemic that hit us, but despite this the synergy between the two forces has always been very strong.
The expectations for the new season are higher for both protagonists of this renewed partnership, confident of being able to do better and better.
A very promising season opens, which will see the riders Tatsuki Suzuki and Lorenzo Fellon lined up on the front line.
Roberto Morone - LeoVince CEO: "I am very excited and proud to confirm the partnership with the SIC58 Squadra Corse team for the third consecutive year. After two years of close collaboration I can say with certainty that we share the same passion and the same enthusiasm. The Sic58 Squadra Corse team is a large family which LeoVince is truly proud to be part of. I am sure that this year too our collaboration will be a winner for both sides and I hope to achieve great results and successes together.
Even this year, we will be side by side not only on the track, but also with new initiatives conceived for the Marco Simoncelli Foundation. We can't reveal anything yet, but we are sure you will like our new project!".
Paolo Simoncelli – Team Owner & Team Manager: "I can't hide how excited and touched I am. My job to manage this season's budget is going to be tough, but I am proud to still have you by my side and in the livery of our bikes, which are still the same as last year, and to see the SIC58 logo on your company website.
We have a rider with a lot of experience who can achieve great results, and a young rider, with big enthusiasm, who we will help to grow. We are all ready to give our best. We have amazing mechanics and technicians in our team, ready to work in this silent paddock, with an enormous wish to win"