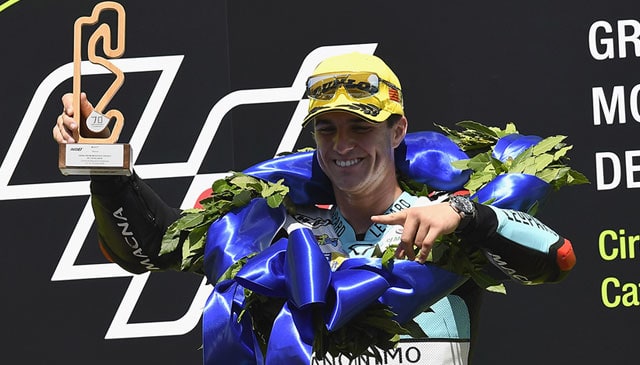 The Spaniard Marcos Ramirez has clinched his first victory in the Championship on Catalan soil, changing this way a very difficult start of the season. On the other side of the box, teammate Lorenzo Dalla Porta has had to withdraw after a mechanical problem.
Historically, the Circuit of Barcelona-Catalunya has always been a very suitable track for Leopard riders and after this weekend, the statistics remain untouchable: since 2015 the Luxembourgish team has gotten the first step of the podium five out of six possible times (2015-Danny Kent, 2017-Joan Mir, 2018-Enea Bastianini, 2019-Marcos Ramirez). In this case, the 2019 new addition to the team, the man from Andalusia, has given the team the first victory of the season and the first of his career in the Moto3 World Championship. A very important moment for him as he has struggled quite a lot so far (before the triumph, Ramirez had enchained three N/C) and needed a burst of motivation. Hard work has finally paid off.
Despite the happiness on this side of the box, the day didn't go that well for the Italian rider of the team. Lorenzo Dalla Porta did a good start and immediately placed himself on the lead, tried to go away but suddenly his bike stopped and had to withdraw at the first stages of the race. The team and Honda have been investigating but still don't know the origin of the problems. It could have been a short circuit in the electrical system.
Right now Leopard Racing is the first team on the standings, Dalla Porta keeps the second position and Marcos Ramirez is the 8th. See you all in two weeks time at Assen's track!
Marcos Ramirez, winner in Catalunya
"I literally don't have words to describe the way I feel right now. I've been working so hard to get to this day and I really needed this result because the start of the season has been very hard. Sometimes racing life can be tricky but if you always believe in yourself and you push until the last moment, dreams come true. For me, the season starts here and I just want to keep doing results like this one. Many thanks to my family, to all the team and to everybody supporting me".
Lorenzo Dalla Porta, N/C
"It's been a big shame because before having the problem with the bike I felt really strong, I already was the leader of the race and I wanted to go away. This time we've had bad luck and the only thing I can say is thanks to the team because they've done everything they could and the bike until that moment worked good. Let's stay positive and think on the next race".
Source: leopardracing.com