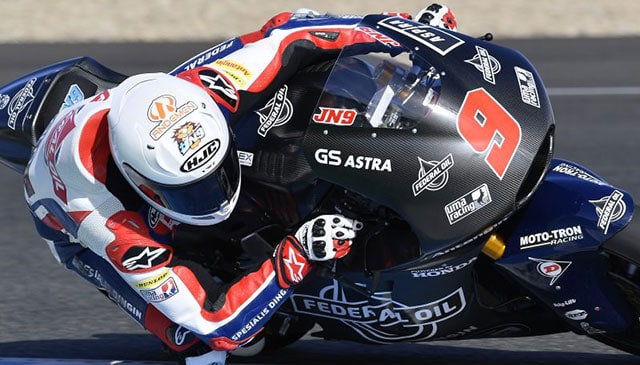 The first day of action at Jerez was a positive one for Jorge Navarro and Team Federal Oil Gresini Moto2 despite being able to ride only in the first and last sessions – as rain prevented all middleweight-class riders to take to the track in the central hours of the day.
The 22-year-old Spanish rider was nevertheless able to complete around 50 laps with a quickest time of 1'43.411. The main goal for the day for Navarro was to find the right feeling with his Kalex machine and to lap as much possible to fine-tune the bike's settings.
The on-track work for Navarro and the team will continue in the same direction tomorrow on a day that appears to be more favourable – with sun shining and mild temperatures expected.
JORGE NAVARRO #9
"Today has been a good day. This morning I was able to get the right confidence back on the bike and managed to set my fastest lap-times towards the end of the session. It was raining in the second one but there were mixed track conditions so we decided not to take any unnecessary risk, while in the last part the sun came out so we were able to put in some consistent work. I also went for a long run which helped me find the right rhythm on track. The bike needs to be improved in some areas and this is exactly what we'll focus on tomorrow."
Source: gresiniracing.com