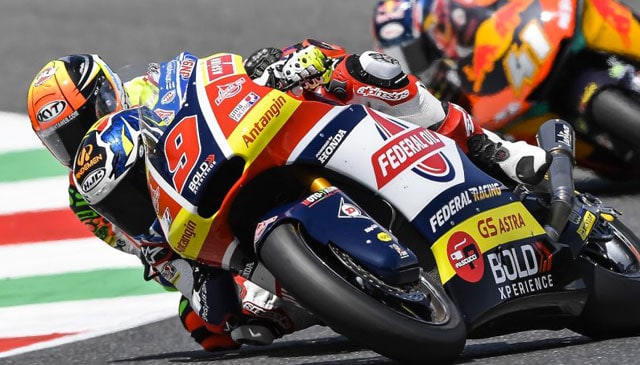 A race crash has ruined the whole weekend of Team Federal Oil Gresini Moto2, with Jorge Navarro forced to pull out of the encounter few laps after the start of #ItalianGP. A pity for the Spaniard, who found a top-10 qualifying performance and had a good start to the race.
As the lights went off, Navarro managed to maintain his position and with a few successful overtaking manoeuvres the Spaniard closed the gap with the front runners, before a crash happened a turn four while he was waiting for the right moment to pass Vierge.
There is not a lot more to say, but surely a lot to do ahead of the next round of the 2018 Moto2 World Championship, which will be contested in Catalunya in a fortnight's time: preparations will start tomorrow here at Mugello with some testing.
N.C. JORGE NAVARRO #9
"I did get a good start and managed to maintain my position: I saw that the group ahead was breaking apart, with Marini and another rider that were a bit slower. I was able to get past both and I had a good rhythm, so I was eager to bridge the gap with the front runners. I got close to Vierge and I was a little faster than him, but I was losing on corner exit. I was waiting for the right moment to pass him under braking but at turn four I lost the front, despite not doing anything out of the ordinary. I'm really sorry for the team that has worked so hard during the weekend with me. We're having a test here tomorrow, which will be a good opportunity to prepare the next race at Montmeló!"
Source: gresiniracing.com
Photo Credit: Gresini Racing