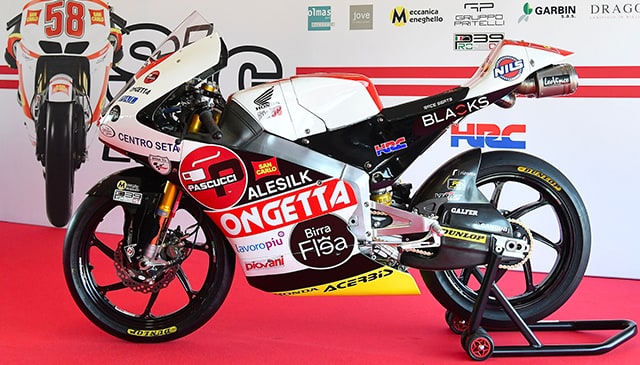 It is with great pleasure that LeoVince announces the sponsorship of the Team SIC58 Squadra Corse for the 2019 season.
LeoVince will be the official sponsor both for the team that will compete in the FIM Road Racing World Championship Grand Prix in the Moto3 class, and for the team that will participate in the FIM Junior World Championship, in the Moto3 class.
LeoVince and the SIC58 Team Squadra Corse, led by Paolo Simoncelli, are two realities that perfectly match the passion, innovation and working methodology that unite them.
Niccolò Antonelli and Tatsuki Suzuki will be the two talents with whom the new partnership will present itself at the start of the FIM Road Racing World Championship Grand Prix in the Moto3 class.
Roberto Morone - Supervisory Board Deputy Chairman
"We are enthusiastic and proud of this partnership with the SIC58 Team Squadra Corse, because we share the same goals and the same motivation.
The enthusiasm and the passion that Paolo brings with him are really contagious and we also count on this aspect for a season of great emotions and victories.
I'm sure it will be a winning partnership for both parties and I hope to achieve great results and successes together."
Paolo Simoncelli - Team Owner & Team Manager
"LeoVince is a brand that has always attracted my curiosity since the days, despite that Marco was not yet a famous rider, they gave him exhausts for his motocross bike. Since then a lot of time has passed and many things have changed both for my family and for the LeoVince company, but in the meeting with the new managers, which happened almost by chance, a good feeling was immediately created and, I add, also a certain sympathy. All this has convinced me to join this collaboration with them and, for a romantic like me, to have them with us is a huge pleasure."