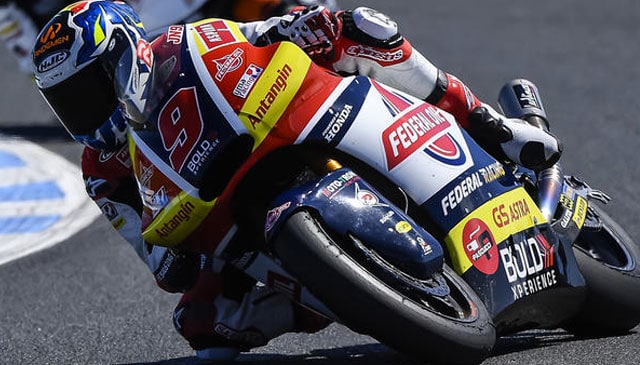 The sixteenth race of the 2018 Moto2 World Championship lasted a bit over ten laps for Jorge Navarro, who was forced to an early retirement following a crash at turn six while he was fighting for a result in the top-15.
The Australian Grand Prix did get underway on a low note for the Team Federal Oil Gresini Moto2 rider, who crashed twice on the opening day of action. The young Spaniard was unable to turn things around and today's tumble left him empty handed once again.
The upcoming weekend will see the series make one last stop in southeast Asia before returning to Europe for the season finale at Valencia, with Navarro eager to make his Moto2 debut at the Sepang International Circuit – he was injured last year – hoping to score his first championship points on Malaysian soil.
DNF – JORGE NAVARRO #9
"The start of the race was not too bad but I was passed by many riders already in the first few turns. I didn't have a great feeling with the front-end of my bike, which was not something new this weekend. I tried to ride at my pace with the goal to finish the race, but it wasn't possible. It was a strange crash because already at turn four I tucked the front – but I was albe to save it – and then two corners later I went straight and crashed. Data showed nothing wrong. It has been a difficult weekend, but we will keep fighting in Malaysia. Last year I could not race there but I've always done well in Moto3, so we'll try to bounce back."
Source: Gresini Racing
Photo Credit: Gresini Racing