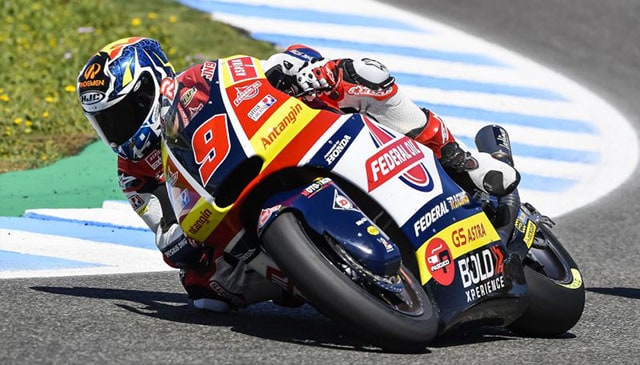 It is still a rough time of the season for Jorge Navarro and Team Federal Oil Gresini Moto2 as the Spaniard was forced to a points chase following an incident at turn six during the opening lap of the #SpanishGP Moto2 race.
Luca Marini's crash has in fact eliminated Navarro from the race. The Spaniard jumped back on his Kalex machine and stayed out on track to be loyal to his team; in the end, he almost reached the top-15 in a race that could have otherwise seen him battle for the podium had there not been this unfortunate setback.
This is a DNF that leaves a bitter taste in the mouth of everyone at Team Federal Oil Gresini Moto2, with Navarro now hoping to turn things around in two weekends at Le Mans – as he knows his performance is improving race after race.
17th – JORGE NAVARRO #9
"What can I say… I would rate our weekend performance 9.5 out of 10. From yesterday morning, the bike was perfect. I had a good pace and during warm up I was lapping as quick as the top-2 guys, so the podium was our target for today. Unfortunately, I had a bad start as I released the clutch a bit too early and that cost me some positions. Marini was a bit too hot at turn 6, like it always happens at that turn, and once again I ended up being the one on the receiving end of his mistake. Both the team and I have worked very well, I projected myself at the front and I had a good rhythm. We must be happy in any case and keep working, because the results will come."
Source: Gresini Racing
Photo Credit: Gresini Racing