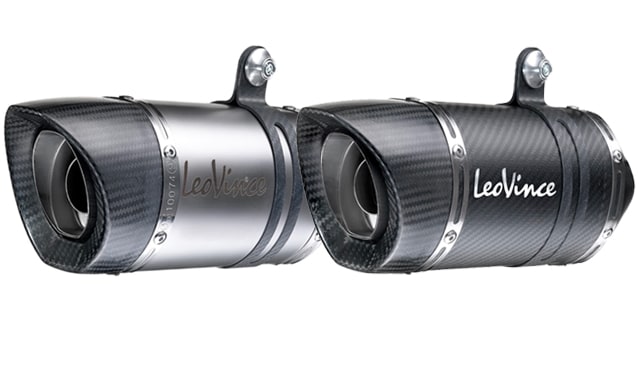 LeoVince is always looking for the best, the new and the original: we introduce the new LV Pro, which, together with the GP Duals and Classic Racer presented during EICMA 2016, goes to enrich the exhaust line developed by LeoVince in 2017.
With the LV Pro line, available in both stainless steel and carbon fiber, LeoVince synthesizes racing look and compactness.
The **LV PRO **slip-on is the result of the LeoVince research of the best materials and craftsmanship; it sports a new aggressive and racing look with its "Shark Cut" end cap, which, combined with the small size, fully enhances the aesthetics of your bike.
The AISI 304 stainless steel of the LV Pro Stainless Steel sleeve makes the **LV Pro **compact and decisive. The sleeve is sandblasted, giving to the exhaust an aggressive "Titanium Look".
The LeoVince logo is laser etched on the silencer.
The **LV Pro Carbon Fiber **sleeve is entirely made in carbon fiber and ensures the necessary lightness to optimize the performance of your bike.
For both versions, LeoVince chose to make the end cap, that characterizes the LV Pro, in full carbon: resistant to high temperatures and shaped with "Shark Cut" design, it combines performance and carbon fiber lightness with the distinctive LeoVince Italian style.