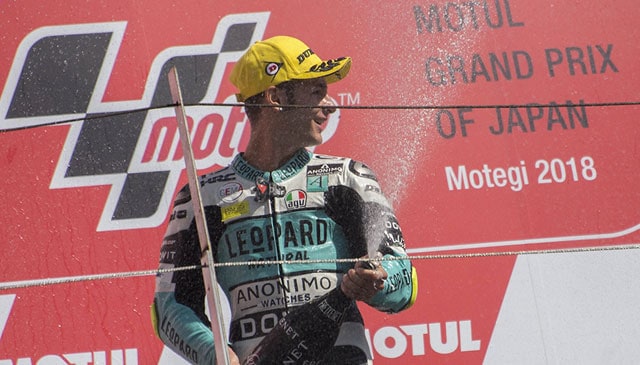 The Leopard Racing team's Tuscan talent conquers the second step of the podium again, climbing to 5th place overall in the world standings behind his team-mate Enea Bastianini, seventh at the finish line.
Sunday morning opened with perfect temperatures (17°c air / 22°c ground) on 4,8 km of the Twin Ring Motegi Circuit, venue of the sixteenth round of the 2018 season. Lorenzo Dalla Porta began the day on the right foot and closed the Warm Up session in 3rd position, while his team-mate Enea Bastianini was behind in the pack.
At 11 o'clock, the traffic lights of the Grand Prix of Japan switched off, with the Leopard Racing bikes busy defending their positions in the first lap, launching the attack of the Top5 already in the third lap. On Lap5 Dalla Porta broke the tie and jumped to second position behind Bezzecchi.
The Tuscan was a fury and in the next lap overtook his rivals and temporarily leading the race; Bestia, on the other hand, remained bottled in the traffic of a large group of 12 riders in +1.500s. Halfway through the race, Bestia passed Sasaki & Rodrigo, with his compatriots Arbolino & Foggia now in his sight; further on Dalla Porta reaching 4th position.
The twist on 6 laps to go: at the Curve 11, the championship leader Martin slipped away, while Dalla Porta engaged a strong duel with Foggia for the podium, with Bastianini now in 7th place. On the last lap Darryn Binder to got on high horse, but Bezzecchi overtook him in the last meters as well as Dalla Porta beat the South African rider him on the finish line.
For Lorenzo Dalla Porta is second podium in a row, the third one in the last 4 races, this result lunchs him directly to the 5th place overall in the world standings with 131 points, immediately behind his team-mate Enea Bastianini, who rose to 142. The MotoGP show returns next week at the Phillip Island circuit, where the 2018 Australian Grand Prix will be held.
#48 Lorenzo DALLA PORTA – 2nd
"I wanted to win at Honda's home track, but the second consecutive podium is a good result. My bike was very fast and I had a great feeling with the front. I took a step forward, I'm constantly fast, since Friday free practice; since Misano I gained my self-confidence and calm after confirming in Leopard Racing unit. In these last races I'm always fighting ahead, I'm getting ready for next season. The team is helping me a lot and they give me trust that I'm repaying to them at all. We're going to Australia with our spirits high and the desire to try to win."
#33 Enea BASTIANINI – 7th
"It was a difficult race, I tried to stay with the leading group but I was on the limit in the corners; I tried to attack, but I could not overtake my rivals. I hope to do better at Phillip Island next week."
Moto3™ Race – Grand Prix of Japan 2018:
1 – M. Bezzecchi / ITA / Redox Pruestel GP / KTM / 20 laps
2 – L. Dalla Porta / ITA / Leopard Racing / Honda / +0.041
3 – D. Binder / RSA / Red Bull Ajo / KTM / +0.042
4 – D. Foggia / ITA / Sky Racing VR46 / KTM / +0.212
7 – E. Bastianini / ITA / Leopard Racing / Honda / +0.404
Moto3™ Riders World Standing 2018:
1 – Jorge Martin / 204
2 – Marco Bezzecchi / 203
3 – Fabio Di Giannantonio / 175
4 – Enea BASTIANINI / 142
5 – Lorenzo DALLA PORTA / 131
Moto3™ Teams World Standing 2018:
1 – Del Conca Gresini / 379
2 – Redox Pruestel GP / 311
3 – LEOPARD RACING / 273
4 – Bester Capital Dubai / 156
5 – Estrella Galicia / 149
Source: Leopard Racing
Photo Credit: Leopard Racing