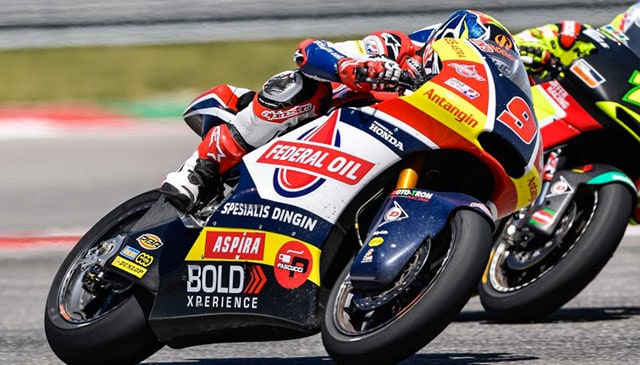 Jorge Navarro has put together a brave comeback at Circuit of The Americas, as the Spanish rider of Team Federal Oil Gresini was eighth at the end of the third race of the 2018 Moto2 World Championship. The 21-year-old from La Pobla de Vallbona got a good start from 19th place on the grid and did well in avoiding any contact at turn one before starting his charge to the top ten.
Navarro had a great battle, which lasted almost the whole race, with Baldassarri, which ended up with a successful overtake by the Gresini rider; this manoeuvre allowed him to get some important points ahead of the long European leg of the season, which will get underway in two weeks' time at Jerez de la Frontera. The Spaniard currently lies thirteenth in the standings with 14 points.
With a top-5 pace – he was only 10 seconds away at the chequered flag from race winner Bagnaia – Navarro proved that an even better result would have been possible had he not started the race from such a poor grid position.
8th- JORGE NAVARRO #9
"I'm happy because today I had fun again on the bike. During warm up we made some changes that helped me quite a lot, then in the race we did our best. It was hard in the early stages because I lost a lot of ground due to the many riders ahead of me, but then with clear track ahead I could ride at my pace and do a great race. Too bad for the final laps, when I experienced a gearing issue and I got false neutral in many occasions. Without this issue, I could have maybe reached sixth place."
Source: gresiniracing.com