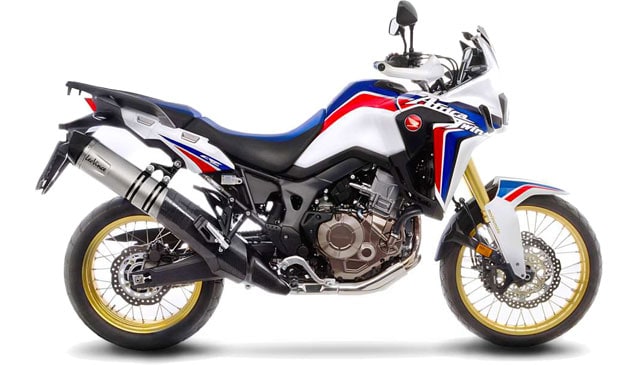 LEOVINCE has developed 2 new lines of exhaust systems for the Honda CFR1000L Africa Twin: the LV ONE EVO and the NERO.
The LV ONE EVO body is in AISI 304 stainless steel and makes the product slim and impact-resistant, while its oval shape with clear square lines give the silencer a unique compactness.
In the stainless steel version, the cabinet has been sandblasted to give an elegant and gritty "Titanium Look". Also available is a version with an outer shell made of carbon, for those seeking a more dark tone.
The stainless steel cup inlet is attached to the muffler body with TIG welding.
The end cap, a real novelty of this new product, is made entirely of carbon and has an asymmetric and aggressive cut. This full-carbon solution gives the exhaust a touch of decisive style, providing greater resistance to high temperatures.
The 2 fastening clamps, are also made entirely of carbon, combining to create a perfect balance in the aesthetic of the muffler.
In the stainless steel version the LeoVince logo is made with laser marking and stands out against an absolutely new background: the Italian brand is stamped on the exhaust as a cut in the body dug silencer.
On the other hand, the carbon exhaust contrasts the dark tones with an aluminum LeoVince die-cut, high temperature resistant adhesive that is bright and easily visible on the carbon fiber.
The NERO exhaust system has a stainless steel sleeve, well-refined with a metallic black paint made with ceramic engineering: more resistant to high temperature and appropriate to support mechanical and thermal stress.
The silencer's shape is the result of an accurate design study that combines style, finish and performance.
Thanks to the brackets made of stainless steel AISI 304 and TIG-welded, LeoVince NERO is particularly easy to mount. These brackets ensure a stronger fixing of the exhaust and a better resistance.
The end cup has an asymmetric and aggressive cut, and it is entirely realized in carbon fiber.
The LeoVince logo is marked on the exhaust thanks to the modern laser technology.
Both lines of exhausts feature a brand new carbon fiber cover, to replace the original one and give to the bike an even more aggressive and refined look.