LV-12 Black Edition
Ride Your Adventure
The LV-12 is ready for any adventure: LeoVince has combined cutting-edge materials and Italian design while creating an exhaust dedicated to the most prestigious adventure bikes and maxi scooters.
With the Black Edition, LeoVince presents a wonderful shade of black to dress your motorcycle in: a ceramic-based and high temperature resistant paint dedicated to lovers of aggressive tones.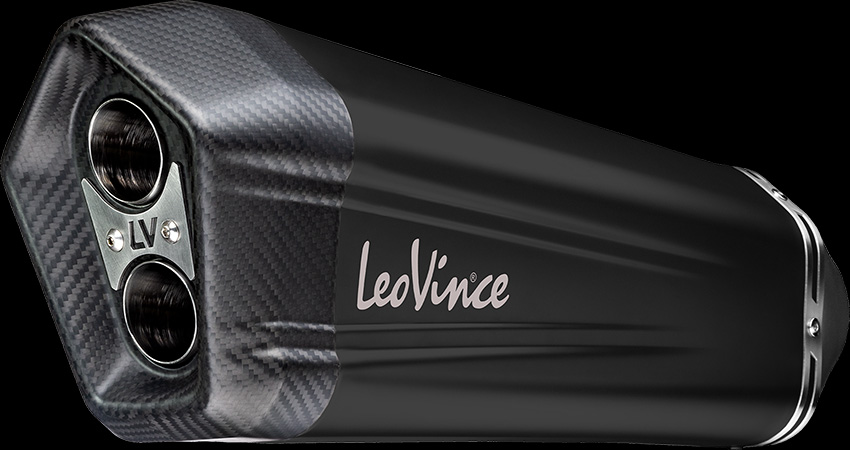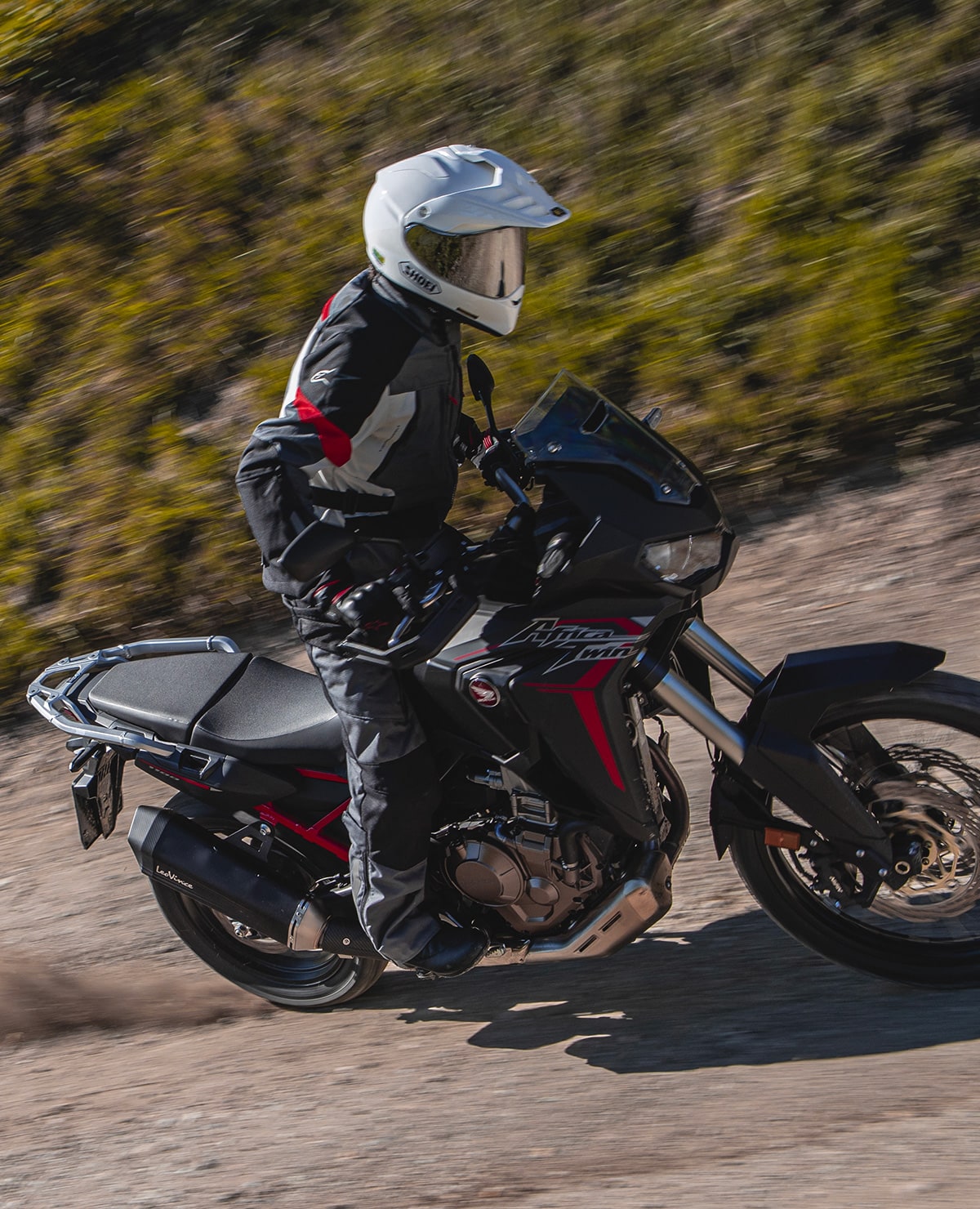 Dark passion
The LV-12 Black Edition is built in AISI 304 stainless steel for a long-lasting performance. We chose this material to let you ride in the most extreme environments and in any weather conditions: The LV-12 Black Edition does not fear water or mud, nor wear over time.
With the Black Edition, LeoVince enhances the LV-12 by introducing a deep matte black: a ceramic-based paint that enhances its shape with a more aggressive look giving you the best high temperature and scratch resistance.
Schwarzes Carbon
Deep black is the real star. The full carbon of the end-cap blends perfectly with the black sleeve of the LV-12 Black Edition to give your bike an unmistakable look wherever you go.
We manufactured it with a special 2x2 twill carbon fiber, specifically designed to resist the highest temperatures and to make your exhaust even lighter.
Die matte Lackierung in Kombination mit der verbesserten Textur schützt die Endkappe vor Verschleiß und Ausbleichen durch UV-Strahlen. So sieht Dein Auspuff auch nach langer Zeit wie neu aus.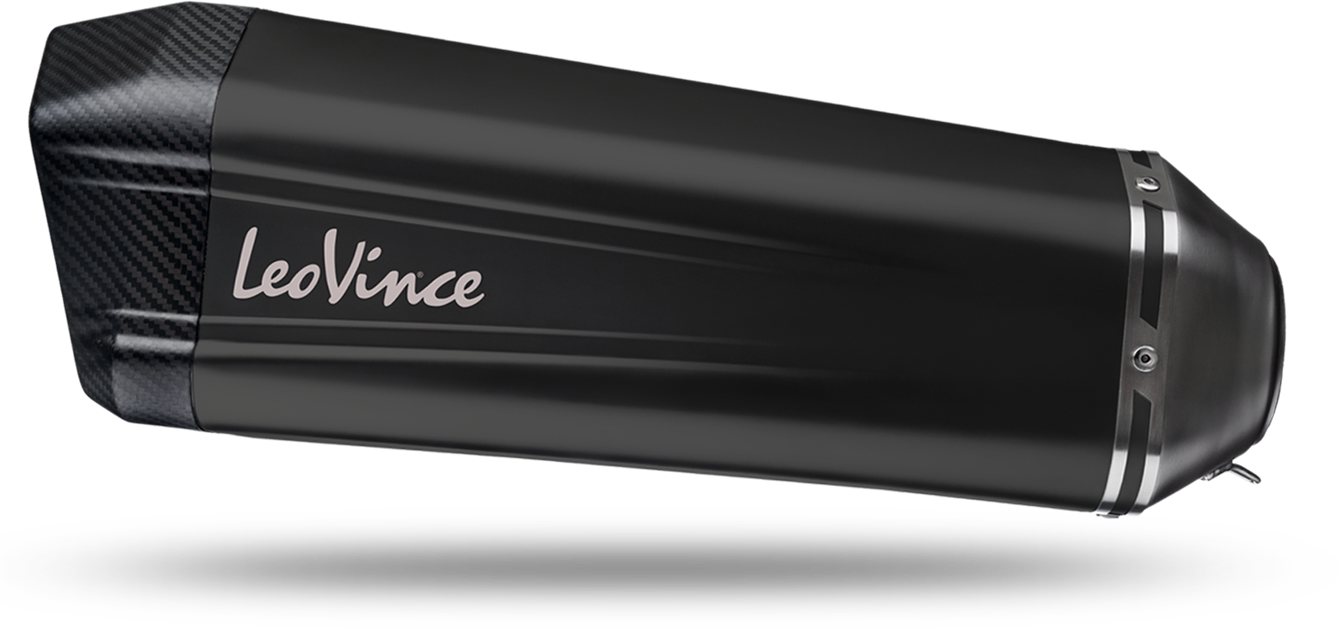 Powerful and discreet
A powerful sound already at low revs.
The LV-12 Black Edition takes advantage of a specially designed internal chamber geometry and high-performance packing material to optimize the exhaust gas flow, giving your bike outstanding performance with a deep, discreet sound.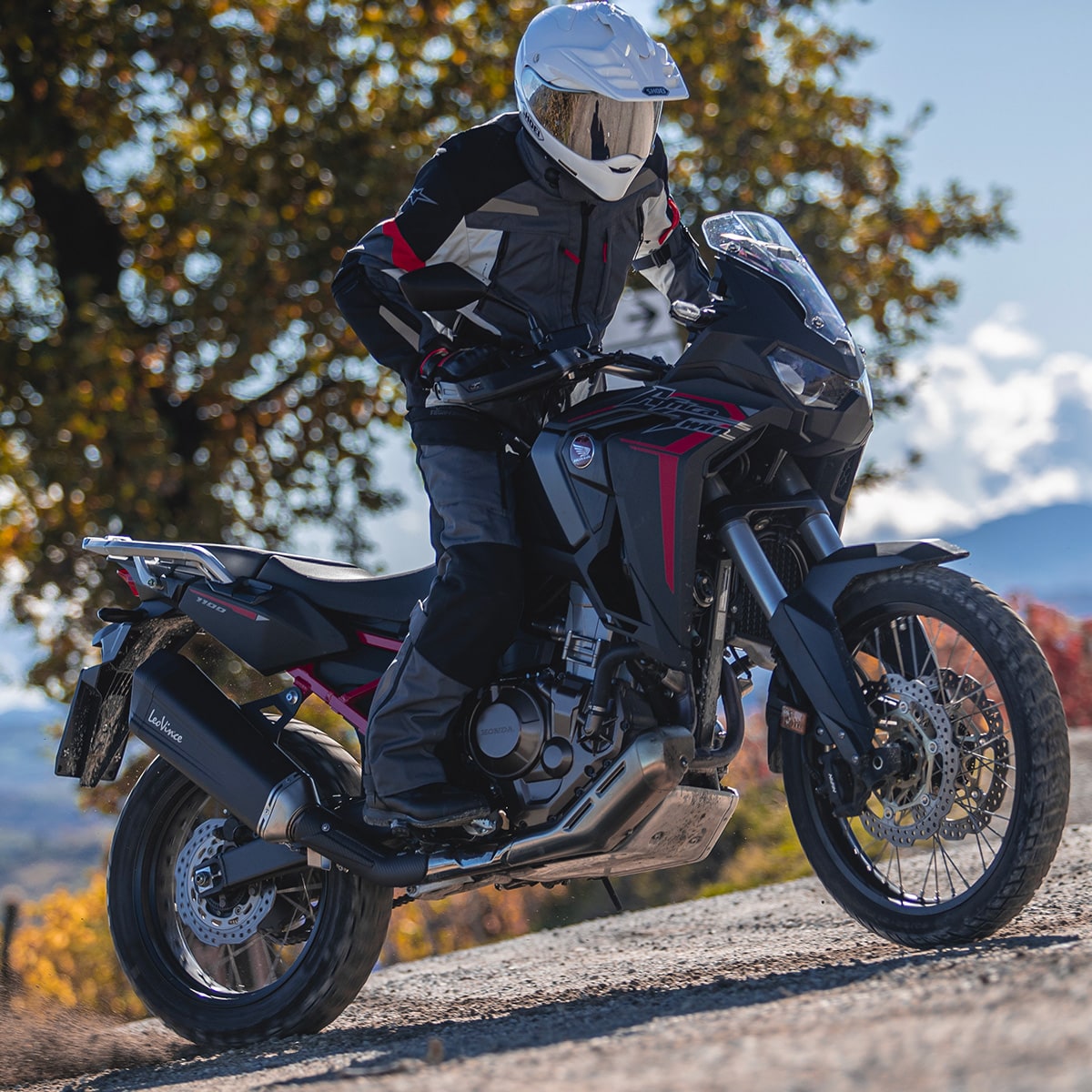 Double output, unique sound
The end-cap in full carbon houses the double tail pipe: the ideal resonance chamber for the sound of the new LV-12 Black Edition.
In addition to enhancing the low tones, it allows an optimal dispersion of exhaust gases, increasing fluidity even at low revs to allow you to hit even the wildest trails.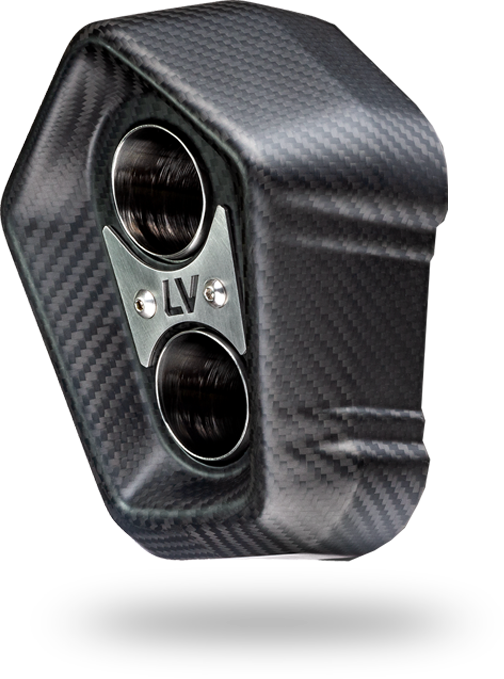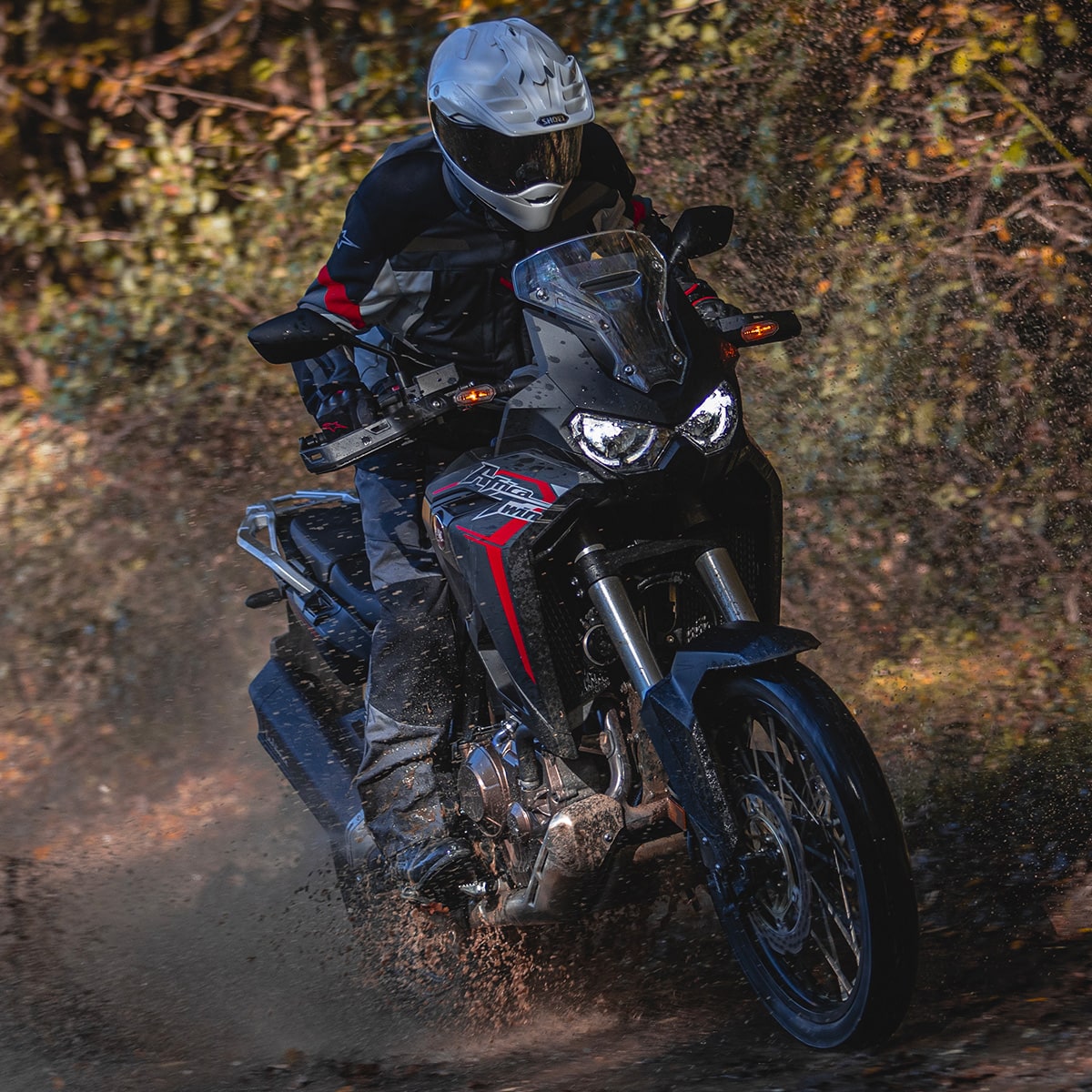 Excellent Performance
Looking for the maximum performance and durability: this is how we conceived the LV-12 Black Edition.
We designed it with a dual flow chamber and we made it entirely in stainless steel to give you an amazing riding experience and the best durability for your never ending adventure.
Advanced Processing
Die handgefertigten TIG-Schweißnähte der neuen LV-12 erfordern spezialisierte Schweißer die hochqualitative Verbindungspunkte liefern. Nur dadurch können wir Dir einen qualitativ hochwertigen LeoVince-Auspuff über lange Zeit garantieren.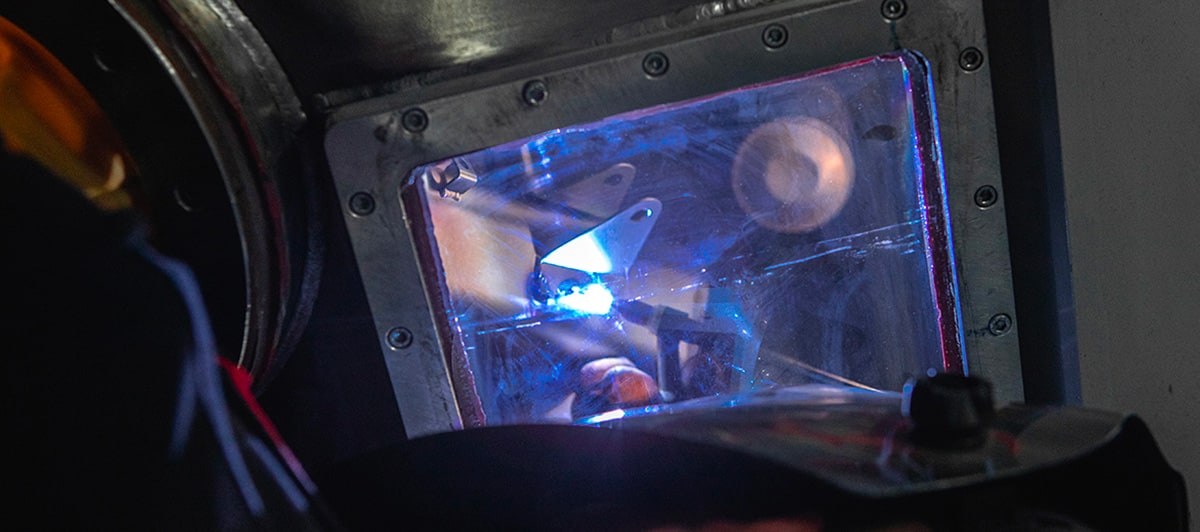 Never unnoticed
Get noticed. The deeply dark soul of the LV-12 Black Edition never goes unnoticed.
The oversized design inspired by the off-road tradition makes it ideal for your adventures, while the ceramic-based paint protects it and enhances the matte tones of the LV-12 Black Edition.
The use of the best materials and the fine details enhance the look of your bike to make it unique: dynamic, charismatic and unmistakable on any terrain.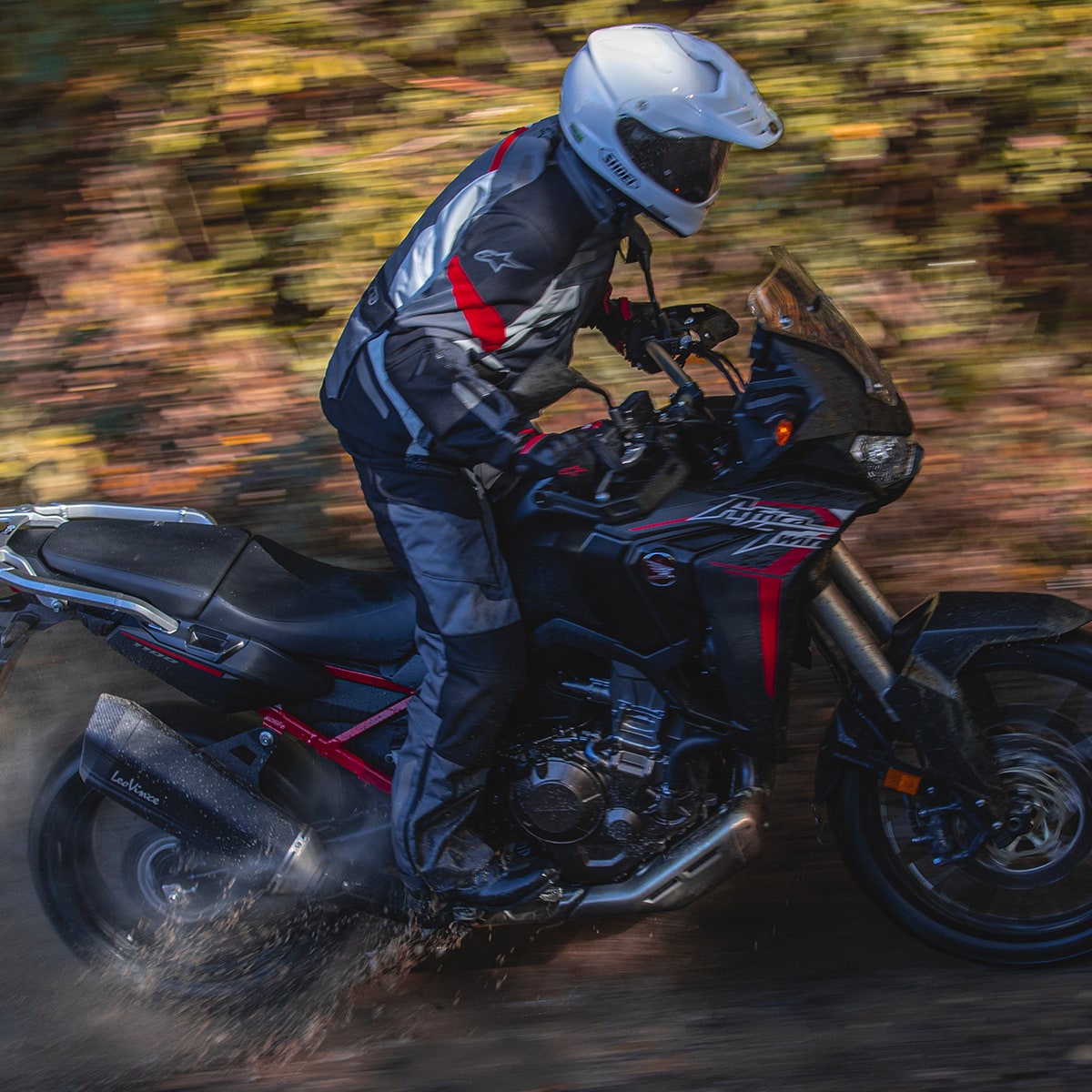 Große Abenteuer, ohne Sorgen
The LV-12 Black Edition is homologated according to the EU regulations in force relating to emissions and noise to give you the peace of mind of a stress-free ride.
Im Paket liefern wir Dir alle notwendigen Komponenten für eine einfache Installation mit, auch für die Montage in Deiner Garage.
We have thought of everything. Saddle up and enjoy your adventure with the LV-12 Black Edition.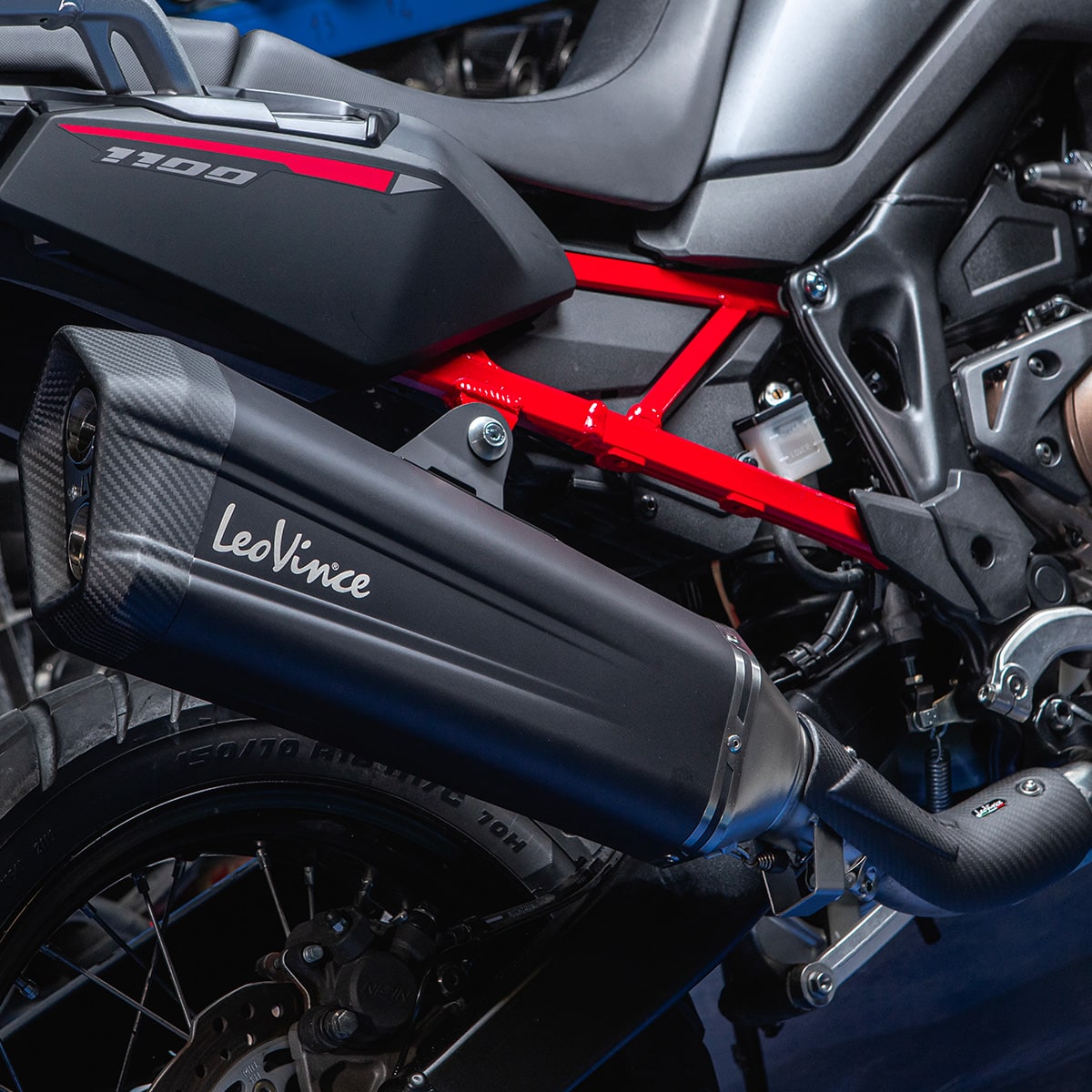 Technische Merkmale
| | |
| --- | --- |
| Material Außenhülle | AISI 304 Edelstahl |
| Mantel Finish | Mattes Finish |
| Lackierung Mantel | keramische schwarze Farbe |
| Material Endkappe | Carbon |
| Endkappen Finish | Mattes Finish |
| Material Halterung | AISI 304 Edelstahl |
| LeoVince Logo | lasergeätztes LeoVince Logo |
| Schweißverfahren | TIG-Schweißnähte |