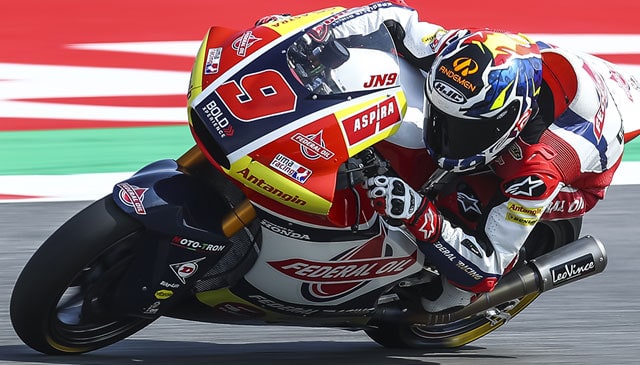 Jorge Navarro has put together a good performance aboard his Kalex #9 machine as the thirteenth race of the 2018 Moto2 World Championship was contested today at the Misano World Circuit Marco Simoncelli. The rider of team Federal Oil Gresini Moto2 had a decent start from second row and managed to make his way up to fifth place, courtesy of a race pace that at some point took him even close to fourth position.
In the final part of the race, however, Jorge was penalised by Race Direction for exceeding track limits in too many occasions and was forced to give way to the following group (which was six seconds behind).
A possible podium chase transformed into a still-positive top-10 placement for the Spanish rider, who looks ahead at the next races with confidence from his 12thposition in the standings (49 points).
9th– JORGE NAVARRO #9
"I'm very disappointed with how we finished the race: we were doing really well and the pace was excellent. We were riding for fourth place and even try to get on the podium in the end. Unfortunately I went too wide outside the track in many occasions, it's true, but it hadn't happened since the start of the race. We must accept the penalty and I would like to apologise to the team because we did a great job. We only struggled a bit more with the front-end in the end. We need to keep working this way until the end of the season."
Source: Gresini Racing
Photo Credit: Gresini Racing