LEOVINCE.COM STORE POLICIES
Order Management
All orders placed on leovince.com will be processed, sold and shipped by AF1 Racing - 9900 N Interstate 35, Austin, Texas (United States) 78753 and are subject to the following policies.
Order Changes
In order to maximize efficiency while providing the utmost level of service, we process all orders as quickly as possible. Any changes made to an order after it has been placed increases paperwork, processing time, and the chance for shipping errors.
Almost all orders are processed same day if placed before 3pm Central Time, Monday through Friday and if the product is available in the AF1 Racing warehouse. If the product is coming from the LeMans Co. warehouse will be shipped in 7 working days.
Please email us immediately should there need to be any changes to your order.
If you need to request a change to your online order, please note the following:
Online order changes must be handled through email. Please do not call to request an order change for an online order. All emails are answered as quickly as possible during normal business hours.
To request an order change, either reply to your Order confirmation email or send your request directly to: orders@af1racing.com
Additions to a 'Paid' order will require a new online order to be placed. If you need to add to a 'Paid' order, please email us in advance. Shipping charges for additional items will be reduced accordingly if we are able to combine shipments.
Once your order has been processed and set to 'Shipped' status with a tracking number it can no longer be modified.
We encourage you to double check all orders for accuracy before submitting them for processing. If you have any questions regarding your order, please email us before submitting your order. AF1 Racing is not responsible for incorrectly entered addresses. Address change requests on shipped orders will be subject up to a $18 address change fee.
Cancellations
All orders are sent to the warehouse for fulfillment immediately after payment is confirmed. Once an order is processed for payment our ability to cancel is limited. To avoid cancellation fees, we must receive your emailed request to cancel BEFORE your order is updated to PAID status. Orders canceled after payment has been confirmed are subject up to a 20% cancellation fee.
"Special Order" Parts
Not all parts are in stock at all times. Parts that are not in stock must be ordered in on your behalf. These are referred to as "Special Order". Stock status is displayed when viewing items, and any part that must be ordered in on your behalf will be denoted by a blue status. e.g (Ready in 5-7 Business Days).
Most parts can be ready to ship within 5-7 days and we will do our best to notify you of unforeseen delays. All special order items are paid for in advance, and are non-refundable non-returnable for any reason once they are shipped to you. Special order items include but are not limited to exhausts systems and parts that are not in the AF1 Racing warehouse, but have to be ordered from LeMans Co.. Unless other arrangements are made, shipments with special order parts will be held until they are complete.

We are unable to cancel special order parts once they are ordered on your behalf without a cancellation fee. You must email us within 1 HOUR of receiving your payment confirmation email if you need to cancel a special order part. Special order parts canceled more than 1 HOUR after payment has been confirmed are subject up to a 20% cancellation fee.
Special order parts must be paid in advance. All special order sales are final. Special order parts are non-refundable, non-returnable once they have shipped to you.
Backorders
For credit card transactions, you will be notified of any backorders prior to completing your purchase. To hold your place in line, all backorders must be paid for in advance so please monitor your inbox to reply to any backorder notification with how you would like to proceed. Split shipment for all in-stock and special order items can be arranged but a 2nd shipment may be subject to additional shipping costs. You will be notified of any additional shipping costs prior to the backorder shipment, if necessary. You may cancel a paid backorder for a refund at any point up until it ships to us from the supplier.
Returns
All returns are pre-paid by the customer unless an error is made on our part. ALL returned items are subject up to a 25% re-stocking fee, because that is what our Distributors charge us. No returns can be processed after 45 days of purchase. Returns within 45 days of purchase require return authorization from AF1 Racing. Returns without authorization will not be accepted. Please contact us at returns@af1racing.com for return authorization. We do not keep credit card numbers on file, so please include the pertinent payment details inside the returning package so that we can refund your money upon arrival.
Special order parts must be paid in advance. All special order sales are final. Special order parts are non-refundable, non-returnable once they have shipped to you.
All sale/discounted/closeout items are non-refundable, non-returnable.
Shipments that were eligible for Free/Discounted Shipping offer may have the shipping costs incurred by AF1 Racing deducted from any refund.
Parts that have been installed can not be returned. Please inspect all purchased items carefully for damage or defects BEFORE installation. If damage or defects are found please contact AF1 Racing within 5 days of receipt to arrange return or credit.
AF1 Racing reserves the right to continuously develop, alter, and/or modify, technical data, specifications, surface treatments, and colors without prior notice. AF1 Racing assures that such changes preserve or improve the component's mechanical fit, function, or reliability in respect to the overall applicable vehicle.
Pricing and Payment
All prices are set at the official LeoVince MSRP (LeoVince MAP policy can be found here).
All payments will be made exclusively by credit card through the platform Stripe.com.
Secure Shopping
The Transport Layer Security (TLS) software AF1 Racing employs is the industry standard and among the best protocols available today for secure online e-commerce transactions. It encrypts sensitive data so that it cannot be read by 3rd Parties as the information travels over the Internet.
General Shipping Information
In general, AF1 Racing ships via USPS mail for most domestic packages 2 lbs and less. For packages over 2 lbs and/or over $100 in value we ship UPS Ground. International packages are primarily shipped via USPS Priority Express mail but UPS International and DHL Export services are also available.
Expedited delivery is available through UPS Next Day Air, 2nd Day Air, and 3 Day Select service. Not all parts are in stock at all times so same-day shipping may not be available in all cases. You will be emailed to notify of any out of stock part prior to order processing. Expedited shipment delivery dates are not guaranteed and AF1 Racing is not responsible for carrier delays. UPS does not include Saturday and Sunday as shipping days.
In some rare cases additional shipping costs may be required, e.g. oversized or bulky items where shipping costs cannot be determined until they are packaged. We will contact you for approval before applying payment of any additional shipping costs prior to shipment.
As a rule we only use shipping methods that are both expedient and 99.9% reliable with insurance and tracking. These shipping methods may be more expensive but we feel it is in our average customer's best interest to receive their costly items quickly and in good order. Additionally, with our small staff and high volume we simply cannot afford the manhours to track down lost packages, so cheaper shipping methods without tracking and insurance are not offered.
Free/Discounted Shipping
Online Orders shipped to addresses in the continental United States are eligible for Free Shipping (Alaska and Hawaii are not included in the States eligible for Free Shipping). The Free/Discounted Shipping offer is not available in conjunction with any other offer, discount, or sale. Orders with Free shipping costs will be sent by a method of our choice unless other arrangements are made. Backordered parts may be removed from a Free Shipping order and submitted as a separate order that includes shipping costs. Modified, or add-on-item, orders are not eligible for free shipping. You will be contacted if any exclusions apply to your order. Telephone orders are not eligible for free shipping.
Shipping Times
USPS Priority mail takes 3-4 days on average in the continental US. Delivery is Monday - Saturday. Some boxes may not fit in your mailbox, so be sure to leave a note. UPS delivers Monday - Friday. UPS does not deliver without a signature. The map below shows average delivery times from our location in Austin, Texas.
UPS (United Parcel Service):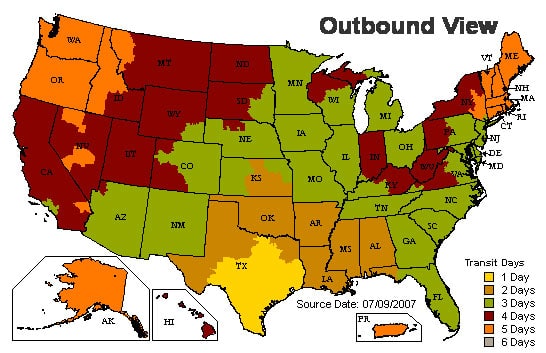 USPS (United States Postal Service):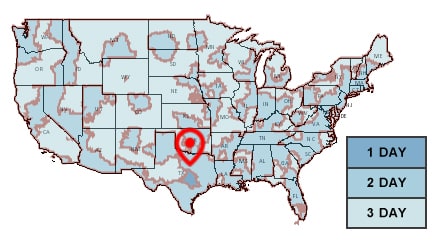 International Shipping
International shipping is extremely reliable and available services include USPS, UPS, and DHL.
It is important that you provide us with your correct address, formatted properly. Typical delivery time is 7-10 days, but some packages have taken 4-6 weeks to reach remote locations. If your package is returned to us we will contact you for a corrected address and you may be responsible for additional shipping charges. You are responsible for any customs duties or fees imposed by your country. We do not collect taxes, duties, VAT, or Customs fees for the export of your International order, and have no way of knowing what your country may charge you for the import. We cannot be held liable for any delivery delays caused by foreign Customs clearance issues or Postal Service strikes.
We encourage all customers to opt for reliable shipping methods. Economical options like USPS 1st Class may be less expensive, but they are not tracked outside of the USA and final delivery is not guaranteed. Please consider opting for more reliable shipping methods like USPS Priority or UPS Worldwide services.
We will not forge or misrepresent values on shipping documents.
Any requests to falsify or declare a lower amount on shipping documents will be ignored.
Carrier Damage/Carrier Non-Delivery
AF1 Racing emails tracking numbers for all shipped packages. It is the customer's responsibility to report if your package arrives damaged, or was not delivered. You must notify AF1 Racing within 5 business days of the delivery date indicated by the tracking number. Save all packing material and contact us to arrange for the carrier's representative to inspect the damage so that we can replace the items.
Prices Not Guaranteed
AF1 Racing strives to provide consistent prices for all items offered. In some cases parts specially imported from international vendors will be subject to price changes due to currency exchange rate fluctuation. For this reason, prices are subject to change without notice. If your order is subject to this issue, you will be notified by our orders department and presented options.
Sales of Race Only Parts
The federal Environmental Protection Agency's policies related to tampering and defeat devices are publicly available at the following sites:
The EPA has taken civil and criminal enforcement action against companies and individuals for violations of the Clean Air Act's tampering and defeat device prohibitions. By ordering "Race Only" parts from LeoVince.com, you expressly acknowledge and assume all the responsibility for ensuring and documenting information to verify that the installation of every "Race Only" part is for competition racing vehicle use only. Examples of such documentation include:
Sign an acknowledgement that the part is for "Race Use Only." The acknowledgement contains enough information (i.e., invoice number, purchase date, purchaser name, part number, etc.) to be able to track the part to its ultimate installation.
Evidence that the vehicle is not registered in any State for highway use.
The detailed owner or operator information and vehicle VIN are recorded.
The vehicle is being used in only closed course competition events like King of the Baggers®, BRL Bagger Racing League®, SUPER HOOLIGAN®, AMA FLAT TRACK®, or one of the hundreds of similar competition racing use only events throughout the US (road race, flat track, drag racing and land speed).
If you have questions regarding the information that you should collect as evidence that the part purchased from LeoVince.com installed by you/your company will be used only on a "Race Only" vehicle as intended, please refer to your legal counsel or racing trade association.
This notice is a material condition of LeoVince's willingness to sell the product to you.
By accepting the terms:
You are solely responsible to verify and document that use of "Race Only" parts will be limited to competition racing use consistent with the terms of this notice;
You will provide LeoVince with copies of the documentation that shows evidence of the use of "Race Only" parts purchased from LeoVince.com upon request;
You consent to the disclosure of your identity to any governmental entity responsible for regulating emissions and/or enforcing emissions laws, if requested.
Privacy
The security of your personal information is extremely important to us. We will never sell or rent your personal information to anyone under any circumstances. We do not keep credit card numbers on file. We may provide your name, shipping address, and phone number to a drop ship vendor or shipper. We're committed to protecting the security and privacy of any personal information you provide to us.