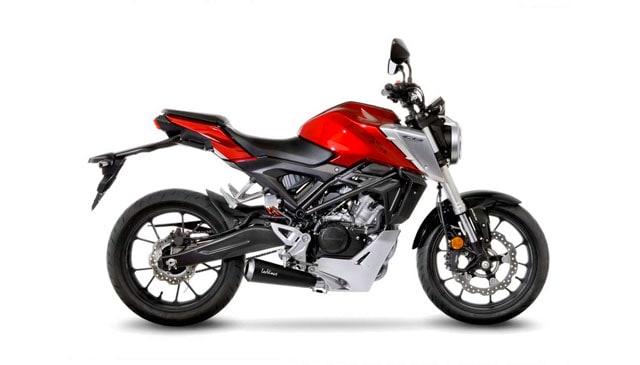 LeoVince has developed a new full system for the new Honda CB 125 R (2018).
The GP One is the new LeoVince slip-on inspired by the racing world. The compact design is enriched with precious elements such as the metallic ceramic-based black paint, the laser-etched LeoVince logo and the modern sandblasted end cap. The high tech details are combined with an unmistakable sound to give to your bike an extremely racing look.
The GP One is completely made in AISI 304 stainless steel. Lightweight and compact, it's finished with a metallic ceramic-based black paint, extremely resistant to high temperatures.
The LeoVince logo marked on the muffler makes the GP One unique.
Easy to install, thanks to the laser cut connection bracket, the GP One is a perfect way to combine the "Racing" charm with the renowned LeoVince quality.
The following are the product part number for the Honda CB 125 R:
15120: "Racing use only" full-system in stainless steel
15120K: "ECE/EU-Approved" full-system in stainless steel
Features
AISI 304 stainless steel
Metallic ceramic-based black paint
Matte finishing
Sandblasted end cap
Laser etched LeoVince logo
Laser cut bracke