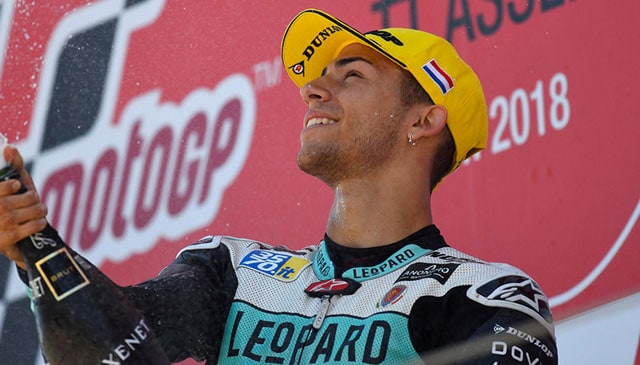 Great satisfaction for the team Leopard Racing in Assen: Bestia jumps on the third step of the podium and Lore closes in the second group by touching the Top5. The riders' ranking is getting shorter, the fight for the Moto3 class title is wide-open.
A warm sunshine and ideal temperatures wrap the 4542m of TT Circuit this Sunday morning in Assen. After the Warm Up session the Leopard Racing duo, Enea Bastianini & Lorenzo Dalla Porta, focus for the eighth race of the 2018 season.
At 11 o'clock the traffic lights of the Dutch Grand Prix switch off: Bestia and Lore make a good start, keeping their positions on the first lap. The leading 5 riders, with Enea in the middle, run with stronger rhythm and begin to dance among the fast corners of the TT; Lorenzo juggles overtaking the second group of 7 riders, all very compact.
At the halfway of the race, the leading 5 have already put a gap of more than 6" from the pursuers: at each breaking, the protagonists of the Moto3 class open up in a fight, with Enea Bastianini concentrated to study his rivals. Dalla Porta doesn't give up and is coming back with authority in the Top 10, in full struggle for the 6th place.
In the last laps the guys in front force the pace and start to run on 42″, as McPhee & Bezzecchi slip away. Martin takes advantage of it and goes to the finish line, while the duel for the other two steps of the podium is decided at the last chicane between Canet and Bastianini. For the rider of Rimini is the second podium in a row, the 21st of his career.
Great satisfaction in the Leopard Racing garage by the 6th place claimed by Lorenzo Dalla Porta, label to prevail on his rivals. The riders' standing is now getting shorter and, almost mid-season, the Moto3 class title fight is more open than ever. The MotoGP show returns in two weeks, on the weekend of July, 13-15: at the Sachsenring, there will take place the German Grand Prix.
#33 Enea BASTIANINI – 3rd
"I'm very happy, it was a really difficult race, as Jorge [Martin] immediately pushed to run away. But we managed to hold on and put an important gap on the guys behind. We have fought so much on the front, always exchanging our positions. In the last laps we maybe lingered too much and Martin took advantage of it. However, a podium is an important result, especially for the standing. 21 points from the leader are not too much, we must keep the concentration high."
#48 Lorenzo DALLA PORTA – 6th
"I'm quite happy with the race, I finally figure out how to start well! Such a shame in the first 3 laps, in which Bezzecchi & McPhee overtook me: I could not stay with them anymore. Today there was a lot of wind on track, it was not easy. I was there in the middle, but at the end of the race I managed to come up: this 6th place is very important for the Championship and get even better in the next round in Germany."
Moto3™ Race – Dutch Grand Prix 2018:
1 – J. Martin / SPA / Del Conca Gresini / Honda / 22 giri
2 – A. Canet / SPA / Estrella Galicia / Honda / +0.665
3 – E. Bastianini / ITA / Leopard Racing / Honda / +0.718
6 – L. Dalla Porta / ITA / Leopard Racing / Honda / +11.321
Moto3™ Riders World Standing 2018:
1 – Jorge Martin / 105
2 – Marco Bezzecchi / 103
3 – Di Giannantonio / 91
4 – Enea BASTIANINI / 84
11 – Lorenzo DALLA PORTA / 43
Moto3™ Teams World Standing 2018:
1 – Del Conca Gresini / 196
2 – Redox Pruestel GP / 155
3 – LEOPARD RACING / 127
4 – Estrella Galicia / 112
5 – Angel Nieto Team / 86
Source: leopardnatural.com
Photo Credit: LEOPARD RACING