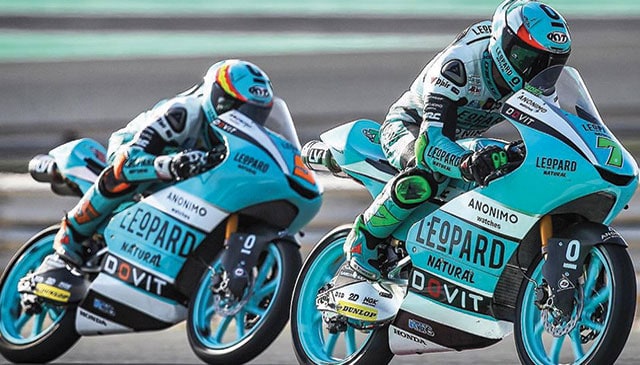 After a 2019 of great success and satisfaction that ended with Lorenzo Dalla Porta World Champion in the Moto3 championship and that saw Leopard Team win the title of World Champion Team, LeoVince and Leopard Racing renew their partnership for the third consecutive year: in 2020 LeoVince and Leopard Racing will line up together again on the track.
Passion, work methodology and innovation are the values ​​shared by both parties. The excellent results achieved together and an intense collaboration and synergy have even further intensified the relationship.
The Italian Dennis Foggia and the Spanish Jaume Masia will be the riders with whom the renewed partnership will be presented at the start of the World Championship.
Podiums, victories and the chance to fight for the Moto3 title are the goals of the two riders.
Roberto Morone, LeoVince CEO
"We are really satisfied about the season that has just ended. With Leopard Racing Team we have achieved excellent results and we are proud to have won the Moto3 World Championship already in the second season of collaboration.
We are really pleased to have renewed our partnership also for the 2020 season; a good relationship has developed with all the members of the team, which goes beyond professional collaboration.
With Dennis Foggia and Jaume Masia we are confident that the new team lineup will bring us great results also in 2020 and will give great visibility to our new LV racing logo".
Miodrag Kotur, COO Leopard Racing:
"We are very happy to continue our partnership with LeoVince after another successful year. The 2020 season will be a challenge and as always we will try to give our best as well as the new riders Dennis Foggia and Jaume Masia. Winning the world championship is always our goal and we have great confidence in this collaboration. We hope that the future holds many more victories with LeoVince!".