APRILIA RX 50/Factory 2018 - 2020
LEOVINCE X-FIGHT
CARBON FIBER | SLIP-ON
Part #: 17001
Homologation:

ECE-Approved

Compatible with original and LeoVince header pipe
Out of stock
Free shipping
Road and off-road
The aggressive and innovative style has always characterized LeoVince X-FIGHT, the exhaust conceived for 2 stroke 50cc engines destined for both off-road and road motorcycles.
From today the line is enriched with the X-FIGHT CARBON version, the evolution of this great classic. The body in "full carbon", formed by two layers of pre-preg carbon fiber, is synonymous with lightness and gives to the exhaust a darker and more aggressive look.
The bracket is also made in "full carbon" for maximum lightness and best performance.
The exhaust also features a sticker with the LeoVince logo, to emphasize the all-Italian design.
KIT CONTENTS
The kit comes complete and does not require any extra parts for installation on the vehicle, all included components are listed in technical drawing and in the user manual.
NOTE
Before ordering the product, it is recommended to check that it is compatible with the type indicated on the Vehicle Identification Card.
All pictures shown and available sounds are for illustration purpose only.
Actual product may vary due to specific product application.
WEIGHT
1.50 kg -3.51 kg vs the OEM
SPARE PARTS & ACCESSORIES
#80013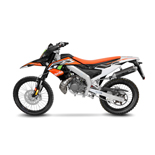 #MO1